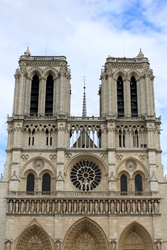 Like all of our other Easy Pass Tours, we have created a tour with the goal of offering our guests an unforgettable experience through superior customer service
(PRWEB) May 13, 2014
Easy Pass Tours is pleased to unveil a brand new skip-the-line tour allowing tourists to experience two of the most visited attractions in Paris without standing in the notorious long lines. On the tour, guests can walk right into the city's most impressive stained-glass chapel, Sainte-Chapelle, and the famous Notre Dame Towers. A personal guide will take guests on a journey through time beginning with the city's Gallic origins and ending in the beautiful Paris of today.
"Easy Pass Tours is thrilled to offer yet another skip the line tour at Paris' most visited attraction, Notre Dame Towers. Like all of our other Easy Pass Tours, we have created a tour with the goal of offering our guests an unforgettable experience through superior customer service," said Julie Neis, Easy Pass Tours General Manager.
During the Notre Dame Towers & Sainte-Chapelle Tour, guests will experience the breath-taking beauty of Gothic architecture and learn why Sainte-Chapelle is nicknamed "The Jewel Box of Paris." They will learn about the historical Notre Dame Cathedral and have no-wait access to the famous bell towers for an incredible view of Paris from above. Guests should be sure to bring cameras to catch a glimpse of Notre Dame's iconic gargoyles.
Easy Pass Tours Paris has been in operation since 2011 providing safe and unforgettable tours of Paris' most famous attractions. As a leader in the tourism industry, they give guests full access without having to stand in the notorious long lines. Easy Pass knows the excitement of traveling to Paris and wants to save travelers precious time by allowing them to "skip the line."
For more information on Paris Easy Pass Skip the Line Tours please visit our website at http://www.easypasstours.com.
About Easy Pass Tours:
Easy Pass Tours allows visitors to "Skip the Line" at Paris' top attractions saving valuable vacation time. It is the mission of Easy Pass Tours to provide safe, fun and unforgettable experiences through superior customer service that creates memories and smiles that last a lifetime. Easy Pass Tours offers tourist services, particularly excursions, tours, visits, recreational, cultural and gastronomic discovery activities, through http://www.easypasstours.com, which lists a tour menu of options with prices ranging from €45/person to €200/person. Every tour provides an exclusive element. One of the features on the site is a prominent "Specials" section for guests to view the tours that are on sale for a limited time. All tours require reservations in advance and can be booked through the website with a credit card.