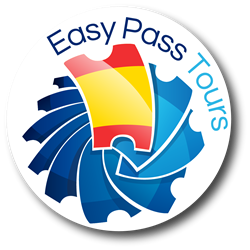 Our mission is to provide safe, fun and unforgettable experiences that create memories and smiles that last a lifetime. Our new Welcome Center is the perfect opportunity to "Wow!" our customers
Paris, France (PRWEB) May 22, 2014
Easy Pass Tours is pleased to announce the opening of their brand new Welcome Center in Paris, where tourists will be able to sign up for any of their tours, or take a few moments to relax and re-gather during their travels. Water, snacks, t-shirts, umbrellas and souvenirs are available for purchase, and the new office offers free Wi-Fi for customers. Clean, pristine bathroom facilities and a friendly staff make the Easy Pass Tours Welcome Center a great place for travellers to start their daily explorations and meet up with their tour groups. It is located at 36 Avenue de la Bourdonnais Paris, France, 75007.
"We have been looking forward to this day for awhile. I'm really excited that we can interact with thousands of customers at our Welcome Center. The Welcome Center is open just in time for summer, and is sure to be a convenient resource for our customers," said Preston Plachy, Easy Pass Tour Operations Manager.
The new Welcome Center will serve as the meeting place for those who are participating in the guided and self-guided skip-the-line Eiffel Tower tours. It also serves as a great location for visitors to reserve for any of the other tours offered by Easy Pass Tours, Fat Tire Bike Tours, City Segway Tours and Classic Walks of Paris. The lines for the top attractions in Paris are notoriously long, and they waste precious vacation time. People who sign up for a tour through Easy Pass not only get to skip the lines, they can also be sure that they won't miss out on any must-sees or history with the help of their expert tour guides.
Easy Pass Tours offer a variety of exciting tour options that highlight the main attractions in Paris. Tourists can peek behind the scenes of Versailles or the Louvre, and can skip the lines at the Eiffel Tower or Notre Dame. The tour guides are always extremely knowledgeable, interested individuals, and are great at customizing each experience for the group they are leading, making Easy Pass Tours an unforgettable part of any trip to Paris.
"Our mission is to provide safe, fun and unforgettable experiences that create memories and smiles that last a lifetime. Our new Welcome Center is the perfect opportunity to "Wow!" our customers," continued Plachy.
For more information on skip-the-line tours with Easy Pass Tours – Paris please visit the website at http://www.easypasstours.com.
About Easy Pass Tours:
Easy Pass Tours allows visitors to "Skip the Line" at Paris' top attractions saving valuable vacation time. It is the mission of Easy Pass Tours to provide safe, fun and unforgettable experiences through superior customer service that creates memories and smiles that last a lifetime. Easy Pass Tours offers tourist services, particularly excursions, tours, visits, recreational, cultural and gastronomic discovery activities, through http://www.easypasstours.com, which lists a tour menu of options with prices ranging from €45/person to €200/person. Every tour provides an exclusive element. One of the features on the site is a prominent "Specials" section for guests to view the tours that are on sale for a limited time. All tours require reservations in advance and can be booked through the website with a credit card.