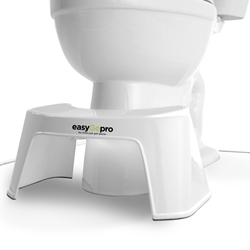 "easyGopro is a great product for humanity."
Los Angeles, CA (PRWEB) December 09, 2014
Launched in October, EGPro, LLC's easyGopro™ is the little stool that makes a big difference. easyGopro ™ is ergonomically designed to help people comfortably simulate the natural position intended for optimum elimination. Created by some of the top talent in Los Angeles, easyGopro™ goes beyond achieving users' optimum comfort, its sleek design guarantees the discreet toilet stool will not distract from your bathroom's decor.
Experts agree that squatting can ease pain and help prevent constipation, colon disease, hemorrhoids, diverticulitis, diarrhea, bloating, and other digestive problems. While that is true, research shows that a full squat is not only uncomfortable, but unnecessary to achieve the health benefits of proper bathroom posture. Simply elevating and resting one's feet at the ergonomically correct height of 7.5" adjusts the hips to the natural 35 degree angle achieved by a proper squat, while still allowing the user to be comfortably seated on the toilet. This allows the puborectalis muscle, responsible for continence, to relax and the colon to open for easier elimination. While other toilet stools have been around for some time, and most recently Squatty Potty was featured on ABC's Shark Tank, Founder and CEO of EGPro, LLC, Wendi Cooper, knew there was room for improvement in form and function.
"Other toilet stools are logistically unfeasible for smaller bathrooms and comfort. Since the long term health benefits are substantial from such a simple solution, I felt strongly that consumers shouldn't have to choose between digestive health and bathroom décor." says Cooper. Consulting with an ergonomic product designer was the logical and necessary next step.
"easyGopro is a great product for humanity. I truly believe that...I was thrilled to design a product that will help so many people." says Henner Jahns, Founder and CEO of design firm.
Featuring a 25% smaller footprint, the sturdy, sleek, and discreet easyGopro™ fits snugly under the toilet seat when not in use. The high-gloss exterior finish blends seamlessly with any toilet, and the classic European design allows one to confidently rest their feet onto the most ergonomically and aesthetically advanced toilet stool available today.
Available at http://www.easyGopro.com, http://www.amazon.com, http://www.homedepot.com and health catalogs.
National television commercial rolls-out, as does mass retail in January of 2015.
About EGPro, LLC
EGPro, LLC is a woman owned and operated business founded in September of 2013. Founder and CEO Wendi Cooper says, "Our mission is clear and simple. To solve everyday problems that affect our well-being and comfort, through development and design of affordable, high-quality, and aesthetically pleasing products."
Contact: Wendi Cooper 310-415-1898 Wendi(at)easygopro(dot)com
About Gecco Vision
Henner Jahns is Founder and CEO of Gecco-Vision, and eye for great product. Located in the epicenter of Los Angeles' Art District. Gecco Vision was founded in 1997 by Henner Jahns. The company has performed award-winning work for numerous clients in Europe and the United States.
Contact: Holger Zerfass 213-245-3635 Holger(at)gecco-vision(dot)com