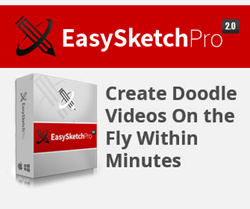 Create Doodle Videos on the Fly within Minutes
Atlanta, GA (PRWEB) November 04, 2014
Easy Sketch Pro 2 was Launched today, November 4th, 2014 at 11:00 am. The new version of Easy Sketch Pro boasts a host of new features. You can view the review video titled: Easy Sketch Pro 2 Review - New Features + Bonuses
In our Video, we show some of the new features included in Easy Sketch Pro 2.0. Paul Lynch is known for creating quality products and providing high value for a small price. This Whiteboard animation software is super easy to use, and can be used for multiple purposes. Creating videos for local marketing, education videos, explainer videos and promotion video are just a few examples of what this software can be used for.
Paul is also known for his outstanding support and consistently improving and upgrading his products.
Some of the new Features of Easy Sketch Pro 2.0 include:
1. Whiteboard Sketch transition to a Live Video
2. Sketch on top of a Live Video
3. Include Video in the Easy Sketch Pro 2 software editor
4. Doodle or Write on Live Video
5. Add Music, Sound or Voice Over
6. New Background Library
7. Over 50 Hands and Styles to Choose from
8. Easily create Doodle Videos
Check out the full review of Easy Sketch Pro 2.0 Here.