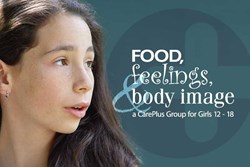 Eating disorders have always been a common issue amongst women, however it is not common for individuals to seek help... The need for this type of support is growing and families are noticing symptoms and reaching out for help...
Paramus, NJ (PRWEB) October 31, 2013
Recognizing the need to address self-esteem and body image issues in female adolescents, Care Plus NJ, Inc. (CarePlus) has created a new psycho-educational group called Food, Feelings, and Body Image.
The goal of Food, Feelings, and Body Image is to encourage adolescent girls to find a healthy and positive balance as their minds and bodies grow, and provide appropriate intervention to help prevent progression to an eating disorder.
Adolescence is an important developmental stage for girls and a time when they are vulnerable to developing low self-esteem. This stage of life can be confusing and body changes can impact how she sees herself and how she feels the world perceives her. Many research findings indicate that the onset of most eating disorders is during adolescence.
Prevention is the best way to preempt an eating disorder so that it does not become a serious health concern. There are many risks associated with the various types of eating disorders such as muscle loss and weakness, severe dehydration, fainting, fatigue, dry hair and skin, hair loss, and growth of a downy layer of hair all over the body (including the face) in an effort to keep the body warm.
The National Eating Disorder Association states, "Prevention is important to reduce the suffering associated with eating disorders. Treatment is often expensive and difficult to obtain, which makes prevention even more important."
The group will be facilitated by Allison Lara MFT, Ed.S, a graduate of Seton Hall University with a degree in Marriage and Family Therapy. She interned for two years at The Renfrew Center – the nation's first residential eating disorder treatment center – with women and their families to provide comprehensive treatment plans that included therapy, nutrition, and psychiatry. She is a permitted clinician in NY and NJ and has been working for the CarePlus COPE program in Montclair for nearly two years, with a clinical focus on young girls who suffer from eating disorders.
Lara's passion to address the needs of young women who struggle with eating disorders is evident. "Since I joined the COPE team, I have been receiving consistent referrals for young girls needing treatment with a focus in disordered eating," she stated. "Eating disorders have always been a common issue amongst women, however it is not common for individuals to seek help. Only one-third of eating disordered women actually seek treatment. As a COPE clinician, I have done preventive eating disorder work with clients and have worked with clients diagnosed with eating disorders. The need for this type of support is growing and families are noticing symptoms and reaching out for help before the symptoms reach a diagnosis."
There are some common signs that indicate an adolescent girl may be struggling with body image concerns and may benefit from the group. These signs include calorie counting, skipping meals, constant dieting, obsession with weight, binge eating, eating only specific foods, rituals around eating, body checking in a mirror or reflective surfaces, excessive exercising, image comparisons, and low self-esteem. Since the sessions are meant to be preventative, the individual may only need to display one or two of these symptoms to be referred to the group.
Food, Feelings, and Body Image will begin on Monday November 4th and will be held at the CarePlus Fair Lawn location on Mondays from 6:30-7:30 p.m. The cost is $375, and includes all eight sessions and intake. For more information or to register please call 201-986-5000 or click here to inquire online.
Care Plus NJ, Inc. (http://www.CarePlusNJ.org) is a northern New Jersey provider of recovery-focused mental health, substance abuse and family services that addresses the unique needs of individuals with a holistic approach to recovery and overall wellness. Operating out of 23 sites – including three outpatient centers located in Paramus, Fair Lawn, and Montclair, ten residential facilities, offices at three local hospitals, and seven community offices – their services are convenient to clients located throughout Northern New Jersey. They also provide educational programs on mental health-related topics to schools, organizations, and community groups; topics including certified Mental Health First Aid, suicide awareness, bullying prevention, and crisis intervention.