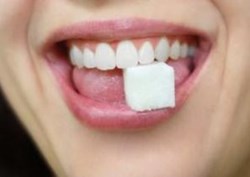 Much of the new publicity has centred on obesity and diabetes and rightly so...but there are also concerns relating to gum disease which can be the precursor of some other serious conditions.
Bournemouth, Dorset (PRWEB UK) 20 January 2014
New concerns at the high sugar content in many processed foods are being echoed by oral health experts at Eludril and Elgydium.
Doctors and academics are calling for a reduction (1) of up to 30 per cent in the amount of sugar used in processed foods. Even some zero-fat yoghurts now contain up to five teaspoonfuls of sugar.
There is growing concern at obesity and diabetes which cost the UK over £5 billion a year. It is feared that this could rise to £50 billion by 2050.
The manufacturers of Eludril mouthwash and Elgydium toothpaste have welcomed the new Action on Sugar campaign by highlighting the link between excessive sugar consumption and gum disease, which can in turn lead to more serious medical conditions.
"Much of the new publicity has centred on obesity and diabetes and rightly so – these are serious public health concerns," said a spokesperson for Eludril and Elgydium.
"But there are also concerns relating to gingivitis (gum disease) which – if left untreated – can be the precursor of some other serious conditions such as heart disease."
Scientists around the world have also linked gum disease with premature birth, respiratory disease, osteoporosis and some cancers.
Gum disease is caused by bacteria. Eating too much sugar can make the problem worse because it increases acidity levels in the mouth – leading to higher bacterial counts.
On average most Britons consume 12 teaspoons of sugar per day but for some the total can be as high as the equivalent of 46 teaspoons.
Many people may be consuming far more than they realise because of the hidden sugars in some foods:

fizzy drinks – an average of nine teaspoons of sugar per 330ml can
flavoured vitamin waters – up to four teaspoons per 500ml bottle
0% fat yoghurt – five teaspoons per 150g carton
tomato soup – four teaspoons per 300g tin.
Gum disease should be treated at the first indication, before the problem deteriorates.
Typical early symptoms include gum soreness and swelling and the areas between the teeth can become particularly swollen if the problem is left unchecked.
Another warning sign is blood on the toothbrush, although this can also be caused by brushing too vigorously.
Ignoring the early warning signs can lead to gum erosion. In the most severe cases, the teeth can become so loose that they either fall out or need to be extracted.
Fortunately, gingivitis can be treated quickly and easily. Dental professionals have for decades recommended chlorhexidine as the number one treatment. It is found in both Eludril mouthwash and Elgydium toothpaste.
Eludril mouthwash is a short term treatment for when gum disease is detected. Elgydium toothpaste can be used daily to treat and prevent gingivitis.
For more information about Eludril and Elgydium, contact Lindsay Revill at Ceuta Healthcare on +44 (0)844 243 6661.
(1) Sugar Is 'The New Tobacco', Daily Mail, 09 January 2014
Eludril and Elgydium are represented in the UK by:
Ceuta Healthcare Ltd
Hill House
41 Richmond Hill
Bournemouth
Dorset
BH2 6HS
Tel: +44 (0)844 243 6661
Eludril Mouthwash is an antibacterial and analgesic solution which can be used to manage a number of oral health problems.
Its main use is to treat and prevent dental plaque formation and gum disease (gingivitis, also known as periodontitis) by preventing the build-up of bacteria.
Eludril Mouthwash can also be used to maintain oral hygiene in situations where tooth brushing is difficult, for instance, following oral surgery or in physically or mentally handicapped patients.
Eludril can also be used as a disinfectant for the cleansing of removable dentures and in the management of common mouth ulcers and oral candidiasis infections (fungus infections).
Elgydium Anti-Plaque toothpaste is specially formulated for sensitive gums and helps to prevent dental plaque and tartar build-up, the major causes of tooth decay and gum disease.
Elgydium Whitening and Decay Protection are also available as part of the Elgydium range of toothpastes.