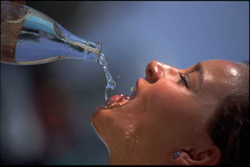 Water is the healthiest beverage available to the body.
Fort Lee, New Jersey (PRWEB) October 18, 2013
One of the first rules of dietary health most people learn from an early age is the importance of drinking water. Water is the go-to beverage for cleansing toxins from the body, shedding weight and hydrating the body's tissues and red blood cells. In the latest blog from nutrition site EatingRightToday.com dated Oct. 9, 2013 and titled, "Drinking Water Really Does Keep You Healthy and Fit," guest blogger Liz Ernst discusses the many benefits of incorporating plenty of water in a nutritious diet.
"Water is the healthiest beverage available the body," Ernst says. "It helps the body to hydrate tissue and red blood cells, cleanse organs and eliminate waste, and it prevents the body from dehydrating during exercise and on hot days."
"Water is one of the most important dietary tools a person can rely on during a weight loss regimen, and just to maintain a healthy diet."
According to Ernst, when people start a new diet that incorporates healthy foods, exercise and plenty of water into their daily routine, the initial number of pounds lost is mainly water weight and is usually shed quickly.
"It's so important to replenish your body's water stores to avoid dehydration," she says. "Water retention shouldn't be a problem as long as you maintain a healthy diet, and your water intake will help flush the body of toxins released as it burns calories and fat."
"Cool, clear, refreshing water combines with dietary fiber to increase productivity in the digestive tract and make you feel fuller when you drink it with meals, so you'll eat less."
The amount of water an individual should consume daily depends on their weight and how active they are.
"Ideally, you will know you're getting enough water if your urine is vey pale yellow or clear," Ernst says.
EatingRightToday.com offers new ideas for healthy meal planning and food trends, making a great go-to source for busy people who want to learn more about eating and cooking healthy, without a lot of fuss.
For more information, visit the EatingRightToday.com website or email info(at)EatingRightToday(dot)com.
About Marble Media LLC:
Marble Media LLC is a creator of high-quality, content-rich blog sites that provide expansive coverage of relevant information to readers who make up a wide range of demographics. The Marble Media LLC team of expert writers covers a wide range of specialties including travel, food, health, fitness, social media, marriage, parenting, technology, weight loss, fashion and much more.
For more information on Marble Media LLC's offerings and advertising opportunities, visit the MarbleMediaLLC.com website, or email sales(at)marblemedia(dot)com.
###