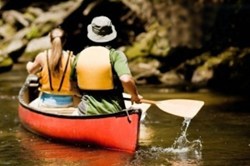 So many of us lead sedentary lives, we spend too much of our time sitting and it's just not healthy.
Fort Lee, New Jersey (PRWEB) July 17, 2013
In the latest post from nutrition blog EatingRightToday.com, released July 13 and titled "For a Lifetime of Fitness, Choose an Active Hobby", guest blogger Liz Ernst tells sedentary readers about the importance of finding an activity that will get them up and out of their chair or couch routinely.
"So many of us lead sedentary lives, we spend too much of our time sitting, and that's just not healthy," Ernst says. "We sit at our desks all day, we come home from work and sit down to eat dinner before hitting the couch to watch TV before bedtime.
"Much has been made of the negative health effects of being sedentary, and if you don't already, you need to know how important it is to get up and get active."
Ernst suggests that people who aren't accustomed to being active should consider looking for an activity that fulfills the requirement for routine exercise, and appeals enough to double as a new hobby or interest in their lives. Golf, swimming, tennis and bicycling are great examples of enjoyable and healthy interests that many people have embraced.
"Sports activities like these can be done alone or with friends or a partner," Ernst says. "Consider choosing an activity that can be done solo so that you can participate in it any time, even if a teammate or partner isn't always able to join you."
For those who aren't looking for an athletic activity, Ernst suggests finding another activity that fulfills the "get up and get moving" requirement. Dance lessons, kite flying, even bird watching provides a great excuse to move.
"If you've never played golf or tennis, or have never been much of a swimmer, look for the availability of lessons at a community rec center or perform a Google search for trainers in your area," Ernst says. "Any activity that gets you outside to combine fresh air and movement might grow to be a passion of yours."
Ernst suggests that some sedentary people should try spreading their time between two or three activities to avoid monotony, and to work different and muscle groups as part of a well-rounded fitness routine.
"Ride your bike to your bird-watching destination, or walk to a yoga-in-the-park class," Ernst says. "The purpose is to get out and get moving, and you're more likely to stick with it if there is variety in your journey."
For more information, visit the EatingRightToday.com website or email info[at]EatingRightToday[dot]com.
About Marble Media LLC:
Marble Media LLC is a creator of high-quality, content-rich blog sites that provide expansive coverage of relevant information to readers who make up a wide range of demographics. The Marble Media LLC team of expert writers covers a wide range of specialties including travel, food, health, fitness, social media, marriage, parenting, technology, weight loss, fashion and much more.
For more information on Marble Media LLC's offerings and advertising opportunities, visit the MarbleMediaLLC.com website, or email sales[at]marblemedia[dot]com.