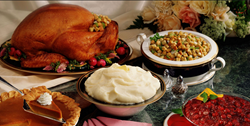 There's a universal conviction that the holidays give us carte blanche to eat up and enjoy.
Fort Lee, NJ (PRWEB) December 14, 2013
Most Americans look forward to gathering with friends and family during the holidays, a season of parties and gatherings makes December the most decadent culinary month of the year. However, it's a tough time for anyone who is watching their weight—even the most disciplined dieter will have a slip or two in the presence of the festive pastries, puddings, pies and pasta dishes that are in abundance throughout the month of December. In the Dec. 14th blog from Marble Media LLC's "Eating Right Today" online nutrition site titled, "8 Tips for Navigating Holiday Parties Without Over-indulging," guest blogger Liz Ernst offers eight simple but effective tips for responsible holiday consumption.
"There's a universal conviction that the holidays give us carte blanche to eat up and enjoy," Ernst says. "So how do you enjoy the holiday season without waking up on January 2nd, 10 pounds heavier?
"We have some simple tips for keeping holiday feasting at moderate levels so people can enjoy the holidays without sabotaging their weight loss efforts."
According to Britt Rotberg, a faculty member and senior program coordinator of the Emory University School of Medicine's Diabetes Education and Training Academy and director of the Emory Latino Diabetes Education Program, the average person gains between one and two pounds over the holidays.
"This doesn't seem like much at the time," Rotberg says. "However, those pounds add up over the years, and carrying around extra weight is not healthy."
"People can enjoy the special foods that are anchored in holiday tradition without undoing their hard-earned diet and fitness gains if they follow some practical advice," Ernst says. "These strategies really work, and they won't deprive you as you might think.
"The key is to pay attention to your eating habits, and avoid the triggers that can lead to over-indulging and the resulting weight gain."
In the blog, Ernst offers eight common sense tips for staying in control throughout the holidays, including:
1. Do not starve yourself all day in preparation for a holiday feast in the evening.
"If you arrive starved, you will overindulge and set your weight loss (or weight maintenance) program way back," Ernst says.
2. Eat a small, healthy and satisfying meal before you head to the party, and splurge on a small portion of something decadent once there.
"Hunger triggers the brain's craving for carbs, so half the battle is not allowing yourself to arrive famished," Ernst says. "Fill up on protein and veggies during the day and you'll find it easier to control yourself in the face of pies, stuffing and honey glazed ham."
3. Eat small servings, limit your serving sizes and keep the portions small, especially when it's high carb dishes like pasta, breads, stuffing and dessert. Ernst says that people who load up their plate with abandon are more likely to clean it , whether they're hungry or not, because it's in front of them.
"You can always get more later, but you will probably find yourself satisfied with smaller portions," Ernst says.
4. A good way to keep track of your carb consumption is using the "plate method." Fill half of a dinner plate with low carb, non-starchy veggies, ¼ with grains-based food, and ¼ with lean protein. Have a small portion of fruit to cleanse the palate and satisfy a sweet tooth.
5. The art of portion control is your best tool for avoiding holiday excess.
6. If you have your choice, select fruit over cake, a sweet potato over pie, and keep your bread consumption to a bare minimum. Whole grain pasta is a good substitute for bread.
For a complete list of tips to get through the holidays without over-indulging, visit the EatingRightToday.com website or email info(at)EatingRightToday(dot)com.
EatingRightToday.com is a great motivational tool for busy people who have little time to read. Delivering succinct, expert articles to a smartphone, tablet or laptop daily means users can easily keep up with healthy trends and catch some inspiration in three paragraphs or less.
About Marble Media LLC:
Marble Media LLC is a creator of high-quality, content-rich blog sites that provide expansive coverage of relevant information to readers who make up a wide range of demographics. The Marble Media LLC team of expert writers covers a wide range of specialties including travel, food, health, fitness, social media, marriage, parenting, technology, weight loss, fashion and much more.
For more information on Marble Media LLC's offerings and advertising opportunities, visit the MarbleMediaLLC.com website, or email sales(at)marblemedia(dot)com.