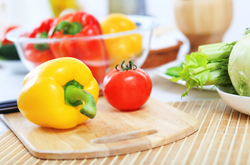 The decision may come down to why you want to become a vegetarian to begin with.
Fort Lee, NJ (PRWEB) August 22, 2013
According to a newly released study, 7.3 million Americans consider themselves to be vegetarian, and an additional 22.8 Million Follow a Vegetarian-Inclined Diet. Approximately 0.5 percent, or 1 million, of those are vegans, who consume no animal products at all. In the latest blog from the nutrition-minded blog site EatingRightToday.com dated August 21, 2013 and titled, "Is Vegetarianism or Veganism Right for You?" guest blogger Liz Ernst examines the motivations of people to live a vegetarian or vegan lifestyle, and offers advice on making sure they are consuming the right nutrients to live meat free in a healthy manner.
The just-released "Vegetarianism in America" study, published by Vegetarian Times, is just the latest in an abundance of scientific research to demonstrate the health and environmental benefits of plant-based diets.
People are attracted to vegetarianism and veganism for different reasons – whether they're ethically opposed to eating animals, or simply because they believe a meat-free diet is healthier. But for many, deciding whether to adopt a vegetarian diet or a vegan diet can be confusing.
"How do you know if a vegan diet is right for you?" Ernst says. "That's something each person must answer for themselves, and the decision may come down to why you want to become a vegetarian in the first place."
There is the moral concern for the treatment of animals scheduled to become someone's next meal, and this is often the driving force behind veganism. Vegans believe that it isn't enough to stop eating meat; they believe that ingredients like casein, the main protein in cow's milk, raises cholesterol levels and can cause cancer. Theirs is a diet that is purely plant-based. Vegetarians cut meat out of their diets for health reasons but continue to consume dairy products.
Other nutrition experts feel that the human body responds best to a diet balanced with fruits, vegetables, grains as well as protein and dairy. This group believes that people who give up both meat and dairy products often don't get enough calcium, iron, protein or vitamins, and therefore recommend including dairy in a vegetarian diet.
"The level of plant-based diet an individual chooses is really up to them and their reasons for eliminating meat from their diet," Ernst says. "If you choose to go the vegan route, do your homework and be certain to research and incorporate all the nutrients needed in a well-balanced diet."
Data for the Vegetarian Times study was collected by the Harris Interactive Service Bureau on behalf of Vegetarian Times. The poll surveyed 5,050 respondents, a statistically representative sample of the total U.S. population. Vegetarian Times commissioned RRC Associates, a research firm in Boulder, Colorado, to perform the data analysis.
EatingRightToday.com is a great motivational tool for busy people who have little time to read. Delivering succinct, expert articles to a smartphone, tablet or laptop daily means users can easily keep up with healthy trends and catch some inspiration in three paragraphs or less.
For more information, visit the EatingRightToday.com website or email info(at)EatingRightToday(dot)com.
About Marble Media LLC:
Marble Media LLC is a creator of high-quality, content-rich blog sites that provide expansive coverage of relevant information to readers who make up a wide range of demographics. The Marble Media LLC team of expert writers covers a wide range of specialties including travel, food, health, fitness, social media, marriage, parenting, technology, weight loss, fashion and much more.
For more information on Marble Media LLC's offerings and advertising opportunities, visit the MarbleMediaLLC.com website, or email sales(at)marblemedia(dot)com.