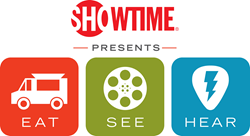 Dirty Dancing is an explosive mix of music, romance and sensational dancing. We thought it would be the perfect film to kick off Eat|See|Hear's 2016 season.
Los Angeles, California (PRWEB) May 02, 2016
Eat|See|Hear, LA's traveling outdoor movie, food truck and live music series, will be in Santa Monica May 7 to showcase the 1987 romantic drama, Dirty Dancing. This event will be held at Santa Monica High School's Memorial Greek Amphitheatre, located at 601 Pico Blvd. Showtime is at 8:30 p.m.
Dirty Dancing is a coming-of-age story about a sheltered teen, Frances "Baby" Houseman (played by Jennifer Grey), who spends the summer at a resort in upstate New York with her family, and there, falls in love with the resort's free-spirited dance instructor, Johnny Castle (Patrick Swayze). The film is also an ode to the music and dance of the early 1960s, featuring timeless hits like "Time of My Life," "She's Like the Wind" and "Be My Baby."
"It's been 30 years since Dirty Dancing hit the big screen and it's still one of the greatest films of all time," says Sharon Sperber, co-owner of Eat|See|Hear. "Dirty Dancing is an explosive mix of music, romance and sensational dancing. We thought it would be the perfect film to kick off Eat|See|Hear's 2016 season."
Live music for the evening will be provided by the band Summer Twins, starting at 7 p.m. Summer Twins is a Southern California-based dreampop group, fronted by sisters Chelsea and Justine Brown. Inspired by the sounds of 1950s and 1960s girl groups, surf music, and garage rock, Summer Twins brings a contemporary dreampop element to an amalgam of retro styles.
Saturday's event will be attended by popular food trucks including Baby's Badass Burgers, Brasil Kiss, Chancho's Tacos, CVT Soft Serve, Foodism, Greasy Wiener, India Jones, Konestruction, Pho King Awesome, Pizza & Co., Postcards CAS, Richeeze Grilled Cheese, Royal Red Velvet, Street Kitchen LA and Wise BBQ. Food trucks will start serving guests at 5:30 p.m.
This location is a concrete amphitheatre with built in seating, so Sperber suggests attendees bring pillows, cushions and blankets to sit on.
"Low back beach chairs are also okay, as long as they don't block the view of the people behind you," she says. "If you're very particular about where you want to sit, come as close as you can to 5:30 when the doors open, so you can have a good choice of seating."
Plenty of parking available at the Civic Center parking structure, located at 333 Civic Center Drive. Limited parking may also be available at the DoubleTree Hotel parking lot, next to the event entrance, or along the streets. Movie goers are asked to enter the amphitheatre through the walkway on 4th Street, between the track and the DoubleTree.
General admission tickets are $14 each for adults and $8 for children 5 to 12 years old when purchased in advance. Children age 5 and under are free. Tickets for the May 7 event can be purchased online. Tickets can also be purchased at the door the night of the event.
In addition to general admission tickets, a limited number of "Fashionably Late" passes are available for $21 each. "These VIP tickets provide a reserved section near the front of the venue, so you are guaranteed to have a great view regardless of what time you arrive," Sperber says. Fashionably Late tickets must be purchased in advance online, and are not available for sale or upgrade at the door.
For further information about Eat|See|Hear's Dirty Dancing event, visit http://www.eatseehear.com. Don't miss your chance to see this iconic movie on the Eat|See|Hear big screen!
About Eat|See|Hear
Voted "Best Outdoor Movie Series" by Los Angeles Magazine in 2014, the Eat|See|Hear outdoor movie, food truck and live music event series brings an evening of fun to Los Angeles-area venues each summer. The fourth annual series is presented by SHOWTIME NETWORKS, featuring up-and-coming bands from the local music scene, the hottest food trucks and the largest inflatable movie screen on the west coast with the highest quality HD-projection with a 52-foot wide image and professional sound. Eat|See|Hear promises an enjoyable movie-going experience for everyone, including dogs. Each event and is produced by LA-based experiential marketing agency Trailhead Marketing, Inc. For more information visit http://eatseehear.com.