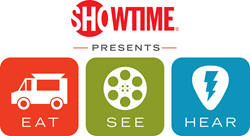 It's a good idea to arrive early so you can claim your spot and get settled in before the show starts.
Los Angeles, CA (PRWEB) July 01, 2016
Summer is in full swing, and so is Eat|See|Hear's 2016 season! The traveling outdoor movie, food truck and live music series has planned two new events for the first two Saturdays in July. On July 2, Eat|See|Hear will show the 1988 comedy starring Eddie Murphy and Arsenio Hall, Coming to America, at the Autry Museum in Griffith Park. On the following Saturday night, July 9, Eat|See|Hear will travel to the Santa Monica High School Amphitheatre to present John Waters' musical comedy, Hairspray. Showtime for both nights is at 8:30 p.m.
The Autry is located at 4700 Western Heritage Way in Los Angeles. Free parking is available across the street at the LA Zoo parking lot. Movie-goers are asked to use the main entrance adjacent to the Autry Museum building on the event lawn.
The Santa Monica High School Amphitheatre is located at 601 Pico Blvd. in Santa Monica. Parking is available at the Civic Center parking lot on 4th Street. Movie-goers should enter the amphitheater on 4th Street, in between the DoubleTree Hotel and the track.
Doors open at 5:30 p.m. "It's a good idea to arrive early so you can claim your spot and get settled in before the show starts," says Sharon Sperber, co-owner of Eat|See|Hear. While the Autry is a large, grassy lawn, and the Santa Monica High School location is at a concrete amphitheater with built-in seating, movie-goers at either location should bring pillows, blankets and/or cushions to sit on.
At every Eat|See|Hear event, there will be a live performance from an indie band before the movie starts. July 2's musical guest will be the alternative pop band from New York City, Cafune. July 9's performance will feature Hawai, an Hawaiian-style band from Dana Point, California. Bands will take the stage at approximately 7 p.m.
A variety of food trucks will be on site and open-for-business starting at 5:30 p.m. Mobile coffeebar, Brasil Kiss, will be at both events. In addition, Bison Burger, Chancho's Tacos, CJ's Wings, CVT Soft Serve, Greasy Wiener, Konestruction, Main Squeeze, Mangia Ristorante, Oh My Gaga, Peaches' Smokehouse, Postcards CAS, and Rice Balls of Fire are also scheduled for July 2. Belly Bombz, Coolhaus, Farmers Belly, Good Greek Grub, Mandoline Grill, Sweet Arlene's, Ta Bom, and Woody's Grill will be on site July 9.
This event is canine-friendly, and every dog will be welcomed with a free biscuit at the entrance to the event. "Be sure your dog is leashed, and bring some extra treats, a water bowl and with waste bags, so your dog and those around you will all be happy," suggests Sperber.
General admission tickets are $14 each for adults and $8 for children 5 to 12 years old when purchased in advance. Children age 5 and under are free. Tickets for the July 2 event can be purchased online at
https://www.eventbrite.com/e/eat-see-hear-outdoor-movie-coming-to-america-tickets-22128209069, and for the July 9 event at https://www.eventbrite.com/e/eat-see-hear-outdoor-movie-hairspray-tickets-22123837995. Tickets can also be purchased at the door the night of the event.
In addition to general admission tickets, a limited number of "Fashionably Late" passes are available for $21 each. "These VIP tickets provide a reserved section near the front of the venue, so you are guaranteed to have a great view regardless of what time you arrive." Sperber says. Fashionably Late tickets must be purchased in advance online, and are not available for sale or upgrade at the door.
For further information about Eat|See|Hear's upcoming events for summer 2016, please visit http://www.eatseehear.com/event-schedule/.
About Eat|See|Hear:
Voted "Best Outdoor Movie Series" by Los Angeles Magazine in 2014, the Eat|See|Hear outdoor movie, food truck and live music event series brings an evening of fun to Los Angeles-area venues each summer. The fourth annual series is presented by SHOWTIME NETWORKS, featuring up-and-coming bands from the local music scene, the hottest food trucks and the largest inflatable movie screen on the west coast with the highest quality HD-projection with a 52-foot wide image and professional sound. Eat|See|Hear promises an enjoyable movie-going experience for everyone, including dogs. Each event and is produced by LA-based experiential marketing agency, Trailhead Marketing, Inc. For more information visit http://eatseehear.com.