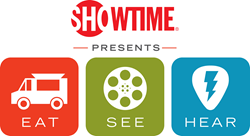 We're really excited about this event and we advise bringing seat cushions, pillows or blankets since this venue is an amphitheater with concrete seating
Los Angeles, California (PRWEB) June 16, 2015
Outdoor movies Los Angeles event series Eat|See|Hear will be in Santa Monica on Saturday, June 20, to showcase Tim Burton's haunting yet whimsical modern fairy tale, Edward Scissorhands. This event will be held at Santa Monica High School's Memorial Greek Amphitheatre, located at 601 Pico Blvd. Showtime is 8:30 p.m.
This 1990 film stars Johnny Depp who plays Edward, a gentle, naïve young man, the creation of an inventor whose sudden death left him unfinished, with sharp metal shears for hands. Edward lived alone in darkness, in a castle high on top of a hill, until a kind Avon lady discovers him and takes him home. At first, everyone welcomes Edward into the community, but soon things begin to take a change for the worse. The all-star supporting cast includes Winona Ryder, Dianne Wiest, Anthony Michael Hall, Kathy Baker, Vincent Price and Alan Arkin.
The film will be projected onto Eat|See|Hear's three-story high inflatable movie screen with a 52-foot wide image—the largest of its kind west of the Mississippi—offering an unrivaled outdoor movie experience with digital HD projection and state of the art line-array audio.
Doors open at 5:30 p.m. "We're really excited about this event and we advise bringing seat cushions, pillows or blankets since this venue is an amphitheater with concrete seating," suggests Sharon Sperber, co-owner of Eat|See|Hear.
At 7:30 p.m., the indie alternative band, OYLS, will take the stage. Fans of Alt-J and Disclosure will enjoy the band's seamless blends of rock, soul and Motown with a rhythmic backbone. The band is comprised of two LA natives, David Kirshenbaum and Michael Lipp, who are both ready to make their mark on the 21st century electronic landscape.
Plenty of food trucks will be on hand, including Brasil Kiss, Coolhaus, Crepe de Ville, Let's Roll It, LuckDish Curry, Mexican Kitchen, No Toros Mexican Kitchen, Peaches Smokehouse BBQ, Postcards CAS, Seoul Sausage, The Chili Philospher and The Schmuck Truck. Food vendors will be open for business starting at 5:30 p.m.
Parking is available at the Civic Center Parking Structure, for a flat fee of $5. This parking structure is located at 333 Civic Center Drive, which is across the street from Santa Monica High School. Movie goers are asked to enter the amphitheater through the walkway on 4th Street, between the track and the DoubleTree Hotel.
Tickets can be purchased at the door or in advance at http://www.eventbrite.com/e/eat-see-hear-edward-scissorhands-outdoor-movie-tickets-16367552791. General admission tickets are $12 each for adults, $8 for children under 12 years old, and free for children 5 and under. General Admission tickets may be purchased at the door with cash or credit card for $14 for adults and the same prices noted for children.
As is true for every Eat|See|Hear event, movie-goers are welcome to bring their dogs with them to the event. Dog owners are asked to bring water and water bowls, dog treats, and waste bags to keep their pets happy during the show and clean up after them.
For further information about Eat|See|Hear's Edward Scissorhands event, or to see the summer 2015 movie schedule, visit eatseehear.com.
About Eat|See|Hear
Voted "Best Outdoor Movie Series" by Los Angeles Magazine in 2014, the Eat|See|Hear outdoor movie, food truck and live music series brings an evening of fun to Los Angeles-area venues each summer. The fourth annual series is presented by SHOWTIME NETWORKS, featuring up-and-coming bands from the local music scene, the hottest food trucks and the largest inflatable movie screen on the west coast with the highest quality HD-projection with a 52-foot wide image and professional sound. Eat|See|Hear promises an enjoyable movie-going experience for everyone, including dogs. Each event and is produced by LA-based Trailhead Marketing, Inc. For more information visit http://eatseehear.com.