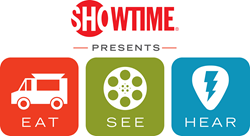 Buying your tickets in advance is the way to go, because you will automatically be entered to win a R/T flight to Auckland, courtesy of Air New Zealand
Los Angeles, California (PRWEB) June 22, 2015
A summer-long celebration of LA outdoor movies, live music and food trucks in Los Angeles, Eat|See|Hear travels to Santa Monica on Saturday, June 27, to showcase the film, Annie Hall, at 8:30 pm. The event will be held at Santa Monica High School's Memorial Greek Amphitheatre, located at 601 Pico Blvd.
This 1977 romantic comedy starring Woody Allen and Diane Keaton is a comical look at the on-again, off-again relationship between twice-divorced, neurotic New York City television writer, Alvy Singer (played by Allen) and his insecure, flighty nightclub singer girlfriend, Annie Hall (Keaton).
Doors open at 5:30 p.m. "Even though the film doesn't start until 8:30, it's good to get there early so that you find your seats and get settled before the show starts," suggests Sharon Sperber, co-owner of Eat|See|Hear.
At 7:30 pm, the LA-based dream-pop duo, Haunted Summer, will take the stage. The band features Bridgette Moody and John Seasons, who share songwriting and performing duties in a true collaboration. Moody's ethereal vocals over soothing strums and sultry strings create a hypnotic, psychedelic sound that is as enticing as it is spooky.
As usual, plenty of food trucks will be on hand. The lineup includes Brasil Kiss, Coolhaus, Good Greek Grub, Hurricane Kitchen, Keep on Grubbin', My Delight Cupcakery, Oh My Gaga, The Lobos Truck, The Mighty Boba Truck, Wise BBQ, and more. Food trucks will be open for business at 5:30 p.m.
Parking available at the Civic Center Parking Structure, located at 333 Civic Center Drive, for a flat fee of $5. This structure is across the street from the high school. Movie goers are asked to enter the amphitheater through the walkway on 4th Street, between the track and the DoubleTree Hotel.
Tickets can be purchased at the door or in advance at http://www.eventbrite.com/e/eat-see-hear-annie-hall-outdoor-movie-tickets-16367604947. General admission tickets are $12 each for adults ($14 at the door), $8 for children under 12 years old, and free for children 5 and under.
"Buying your tickets in advance is the way to go, because you will automatically be entered to win a R/T flight to Auckland, courtesy of Air New Zealand," says Sperber.
In addition to general admission tickets, a limited number of "Air New Zealand Fashionably Late" passes are available for purchase in advance at the Eventbrite website, granting seating in a reserved area, regardless of arrival time.
For further information about Eat|See|Hear's Annie Hall event, or to see the summer 2015 movie schedule, visit eatseehear.com.
About Eat|See|Hear
Voted "Best Outdoor Movie Series" by Los Angeles Magazine in 2014, the Eat|See|Hear outdoor movie, food truck and live music series brings an evening of fun to Los Angeles-area venues each summer. The fourth annual series is presented by SHOWTIME NETWORKS, featuring up-and-coming bands from the local music scene, the hottest food trucks and the largest inflatable movie screen on the west coast with the highest quality HD-projection with a 52-foot wide image and professional sound. Eat|See|Hear promises an enjoyable movie-going experience for everyone, including dogs. Each event and is produced by LA-based Trailhead Marketing, Inc. For more information visit http://eatseehear.com.