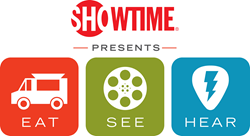 Even though the film doesn't start until 8:30, it's good to get there early so that you find your seats and get settled before the show starts.
Santa Monica, California (PRWEB) May 25, 2015
A summer-long celebration of movies, music and food, LA outdoor movie series Eat|See|Hear travels to Santa Monica this coming Saturday, May 30, to showcase the film Zoolander at 8:30 pm. The film will be projected onto Eat|See|Hear's 3 12 story tall, 60 foot wide inflatable outdoor movie screen—the largest screen of its kind on the West Coast.
This 2001 comedy starring Ben Stiller, Owen Wilson, Will Farrell and Christine Taylor, follows the life of Derek Zoolander (Stiller), VH1's three-time male model of the year who feels washed-up when rival model, Hansel (Wilson) wins the award instead. Forced into an early retirement from modeling, Zoolander is hired by evil fashion guru Jacobim Mugatu (Ferrell), who brainwashes him to kill the Prime Minister of Malaysia. The film is full of slapstick humor and hilarious predicaments as Zoolander and his new friends try to prevent the assassination before it is too late.
This event will be held at Santa Monica High School's Memorial Greek Amphitheatre, located at 601 Pico Blvd. Since this is a concrete amphitheater with built-in seating, moviegoers are encouraged to bring pillows, cushions and blankets to sit on.
Doors open at 5:30 pm. "Even though the film doesn't start until 8:30, it's good to get there early so that you find your seats and get settled before the show starts. If there is a specific area you'd like to sit in, you should arrive as close to 5:30 as possible," suggests Sharon Sperber, co-owner of Eat|See|Hear.
Another reason to arrive early is to be able to take in the performance of the indie pop band, Dutch Party, scheduled to take the stage at 7 pm. Based out of Echo Park, Dutch Party has quickly cornered the market for "laid-back, funk rock" after releasing two tracks in December.
The fun doesn't stop with movies and music. Plenty of food trucks will be on hand, serving up sweet and savory snacks and entrées. The lineup includes Boba Ni Taco, Bollywood Bites, Brasil Kiss, CJ's Wings, Coolhaus, Mangia Ristorante, Peaches Smokehouse BBQ, Pizza & Co, The Pudding Truck, Roll'n Lobster, Ta Bom and Vchos.
Parking is available at the Civic Center Parking Structure at 333 Civic Center Drive, which is across the street from Santa Monica High School. This is a public parking garage, run by the city of Santa Monica. The DoubleTree Hotel, adjacent to the Civic Center parking structure, also has limited parking available. There is a flat $5 parking fee at either facility.
Moviegoers are asked to enter the amphitheater through the walkway on 4th Street, between the track and the DoubleTree Hotel. This is the only entrance to the event.
Tickets can be purchased in advance at http://www.eventbrite.com/e/eat-see-hear-zoolander-outdoor-movie-tickets-16367443464. General admission tickets are $12 each for adults, $8 for children 5-12 years old, and free for children 5 and under. Tickets can also be purchased at the door unless the show has been sold out.
In addition to general admission tickets, a limited number of "Fashionably Late" passes are available for purchase in advance at the Eventbrite website, granting seating in a reserved area, regardless of arrival time.
As is true for every Eat|See|Hear event, moviegoers are welcome to bring their dogs with them to the event. Pet owners are asked to bring water and water bowls, dog treats, and waste bags to keep their dogs happy during the show and clean up after them.
For further information about Eat|See|Hear's Zoolander event, or to see the summer 2015 movie schedule, visit http://www.eatseehear.com.
About Eat|See|Hear
Voted "Best Outdoor Movie Series" by Los Angeles Magazine in 2014, the Eat|See|Hear outdoor movie, food truck and live music series brings an evening of fun to Los Angeles-area venues each summer. The fourth annual series is presented by SHOWTIME NETWORKS, featuring up-and-coming bands from the local music scene, the hottest food trucks and the largest inflatable movie screen on the west coast with the highest quality HD-projection, a 52-foot wide image and professional sound. Eat|See|Hear promises an enjoyable movie-going experience for everyone, including dogs. Each event and is produced by LA-based Trailhead Marketing, Inc. For more information visit http://eatseehear.com.