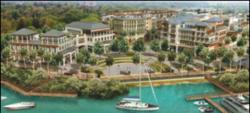 10,000 EB-5 green cards are available annually.
Palm Beach, FL (PRWEB) February 09, 2012
Harbourside Place in Jupiter, Florida is a USCIS approved EB-5 Regional Center that is going vertical in April 2012 and on track for completion by October 2013. This mixed use project is located on 10 prime acres of waterfront along the intracoastal waterway and will soon become Jupiter's community entertainment and business center.
The project will consist of a 178 room hotel, a convention center, 20 boat slips, 7 restaurants, retail space, 50,000 square feet of office space and an amphitheater.
Hundreds of business owners and developers all over the U.S. have discovered a creative way to finance projects through the EB-5 Visa Program according to Kevin Dickenson, a Palm Beach real estate broker associate. The EB-5 Visa Program is one of the most flexible immigration programs in the world, allowing foreigners to gain permanent United States residency for themselves, their spouse and any children under the age of 21, through their EB-5 investment.
The United States Citizenship and Immigration Services (USCIS) estimates that the EB-5 program has attracted more than $1.5 billion in investment capital since its inception in 1990 and has created 31,000 jobs. The program will expire on September 30, 2012 unless extended by the U.S. government.
Each year, the U.S. government offers 10,000 new EB-5 green cards and 3,000 of those are set aside for investments through EB-5 Regional Centers. "If you invest through a USCIS approved Regional Center, the investment required is reduced from $1 million to $500,000," said Dickenson. At present, there is no waiting list to obtain your green card through this program.
Harbourside has a cap of 160 EB-5 investors, and to date, 110 investors from 11 countries have committed. "The majority of the investors for Harbourside are from China," said Dickenson. China Merchants Bank published "China's Private Wealth Report 2011" which states that "Chinese interests in overseas real estate and immigration are getting stronger. The report also indicates that about 27% of Chinese billionaires are involved in emigration investment."
"The investors will receive a first position mortgage on the entire Harbourside Project including all the buildings, all the land on which they sit, and the marina facilities which have a combined certified appraised value over $170,000,000," according to an FRC brochure.
The FRC brochure further states, "The EB-5 investors also have an exit strategy in year 4 providing 100% repayment of the investment. The developer has an agreement with Ackmann-Ziff, New York's largest Commercial Real Estate Finance Group, stating Ackmann-Ziff will provide $100 million re-financing for the EB-5 loan and Harbourside Place in year 4."
Aldo Beltrano, a Florida attorney who practices immigration law, notes the following requirements for the EB-5 Visa Program:

Each EB-5 investor must create 10 full time U.S. jobs within 2 years of becoming a Lawful Permanent Resident.
Must be an Accredited Investor under the Securities and Exchange Commission Rules. Net worth over $1 million or a salary of over $200,000 per year for several years.
Investors funds are at risk of loss.
Investors source of funds must be obtained lawfully.
The investor must take an active role in the management of the project. The Regional Center management is in place and LLC's and Limited Partnerships have typically been recognized under the EB-5 program.
$500,000 investment required if through an approved Regional Center, otherwise $1 million investment is required.
Harbourside Place is located at the center of Jupiter's $510 million 2.5 mile Riverwalk project. Video renderings of the project and ground breaking ceremony can be viewed at Harbourside Jupiter.
Kevin Dickenson http://www.kevindickenson.com is a realtor with Prudential Florida Realty who specializes in residential and commercial real estate from Palm Beach to South Beach. In 2011, Mr. Dickenson closed over $24 million in real estate transactions.
This document is for informational purposes only and is not legal advice or a solicitation to invest. Prior to applying for an EB-5 Visa or entering into any investment agreement legal advice is highly recommended If you have any questions about the EB-5 process, please contact Aldo Beltrano, Esq., at (561) 799-6577 or visit his website at beltranolaw.com. Mr. Beltrano is not affiliated with Harbourside Place.
###