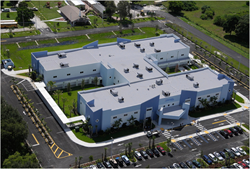 GreenAccess Completes Cooper City Charter School Project
Jupiter, Florida, USA (PRWEB) July 31, 2017
GreenAccess today announced its Phase One Cooper City charter school investment project is complete and its investors are being refunded. Renaissance Charter School at Cooper City, located at 2800 North Palm Avenue in Cooper City, Florida, serves more than 1,200 K-8 students. The school's opening in 2012 created 360 new jobs. The project's investors, now Green Card holders, have filed their I-829 form to request removal of conditions. With the removal of conditions, the immigrant investors and their family members become permanent, legal residents of the United States.
"Our seamless process via the EB-5 Program delivers as promised," commented GreenAccess President and Founder Stephane Hardy. "We ensure our clients' money is well invested and returned to them after the 2-year period of conditional permanent residence and the filing of form I-829."
To date, more than 300 individuals and their families have completed the GreenAccess process and are now enjoying conditional, permanent legal residency in the U.S. There are more than 700 additional investors in various stages of the GreenAccess process. This August, six new GreenAccess-funded schools will open across Florida, creating more than 2,200 jobs.
Bridgeprep Academy of Duval
Jacksonville, FL
Bridgeprep Academy of Palm Beach
Delray Beach, FL
Bridgeprep Academy of Riverview
Riverview, FL
Slam! Tampa
Tampa, Florida
Mater Palms Academy
Kissimmee, FL
Pinecrest Lakes Academy
Minneola, FL
About GreenAccess
Using the EB-5 Immigrant Investor Visa Program, GreenAccess delivers foreign individuals and their families successful immigration to the U.S. via safe investing in Florida public school construction projects. By facilitating exclusively Florida public school investment projects, GreenAccess brings clients a safe, all but guaranteed path to permanent, legal residency through the removal of conditions—the final and most difficult hurdle in the EB-5 Program process.
For more information, visit greenaccess.com. For media inquiries, reach Kristen Lunceford at 561-308-4741 or kristen(at)bellagroupinc(dot)com