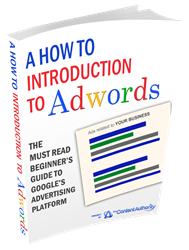 This guide will help new users ensure their ad spend doesn't skyrocket while conversions barely make it off the ground.
Cranberry Township, PA (PRWEB) July 15, 2013
As the first offering in a series of free marketing guides focused on Google AdWords, The Content Authority's CEO, Shawn Manaher, today announced the release of A How-To Introduction to AdWords. The eBook is designed to help online marketers with little to no pay-per-click advertising experience understand and leverage the AdWords platform successfully.
"PPC is an incredibly powerful advertising model when executed correctly. Unfortunately, the complexity of Google's platform is a hurdle for many SMBs without the funds to play around, or the expertise to run fruitful campaigns. This guide will help new users ensure their ad spend doesn't skyrocket while conversions barely make it off the ground," said Mr. Manaher.
Readers can expect to cover a number of essential topics in this introductory guide. These include:

The basics of setting up a Google Account
Creating an initial ad campaign
Selecting the right keywords and grouping them together for success
Writing engaging and effective ad copy
Understanding keyword match types and how they can be configured to minimize ad spend and potentially increase conversions
In addition to the AdWords series for beginner, intermediate, and advanced users, The Content Authority will publish a collection of eBooks across multiple areas of online marketing. "These guides will provide a tremendous opportunity for every level of marketer to master Google Analytics, social media, eBook marketing, inbound marketing, and email marketing," explained Mr. Manaher.
Anyone interested in obtaining a free copy of A How-To Introduction to AdWords can access the download link located here. Additional guides in the series will be announced upon their release.
For comments and interviews, please contact Shawn Manaher via email at shawn(at)thecontentauthority(dot)com.
About The Content Authority
The Content Authority is a leading custom content provider specializing in writing services, submission services, and content management. Their main goal is to provide businesses and individuals with affordable, high quality products and services that strengthen their marketing campaigns. TCA delivers truly personal attention and exceptional customer service to both current and prospective clients. With an integrated and progressive approach to content creation and management, entrepreneurs can ensure they drive their business forward.
For more information about The Content Authority, please contact support(at)thecontentauthority(dot)com. Alternatively, you can visit the company's website at http://thecontentauthority.com.
###