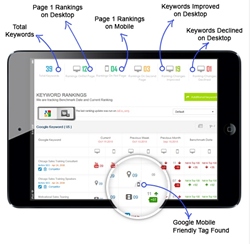 eBrandz white label dashboard is just an amazing platform for agencies like mine who need an easy-to-use dashboard for managing and tracking their clients. The SEO intelligence API makes it easy to understand how well my clients' website is progressing.
New York, NY (PRWEB) July 15, 2015
eBrandz provides their clients a dashboard which can track how many calls they received, how many leads they received via their website. The dashboard helps clients track progress of their SEO, Social and Paid campaigns. This latest feature helps clients track Google Mobile rankings for their small business websites right within the dashboard. So in one convenient place clients can track their mobile as well as desktop rankings.
In addition to the search positions, the dashboard also shows if the ranked URL is mobile friendly or not. Since Google prefers mobile friendly websites in mobile search, this feature allows the site owner to make modifications to their site so that Google recognizes it as mobile-friendly. Apart from this, the dashboard also captures a screenshot of the website ranking in Google mobile SERP as a trust factor. The mobile ranking dashboard looks like as shown in the attached image.
Another important feature they've added is 'Tracking of Non-Client Website URLs' i.e. if ebrandz has created a Yelp listing for your business and it ranks instead of the website, the dashboard can track that too. No other ranking software provides this feature yet.
The list of 'Non-Client Websites' includes Video sources like YouTube and Vimeo, Local Search Engines & Directories, Social Profiles like Facebook & Twitter, Coupon Sites, Infographic Sites, PR Syndication Channels, Content Marketing Networks and Blogs.
eBrandz has been providing help in making Google Mobile friendly websites for more than two years now. And, 100 percent of the websites developed by eBrandz are recognized by Google as "Mobile Friendly".
Listed below are some of the Google Mobile friendly website features.

Fully responsive website recognized by Google as Mobile friendly
Click to Call, Click to Email and Click to Text features.
Advanced Mobile Lead tracking and Analytics.
About: For the past 12 years, eBrandz has been helping small and medium businesses increase their sales or leads through internet marketing techniques. eBrandz provides quality work at fraction of cost and hence offers great value for money. eBrandz hires the best talent in this industry and uses latest Search Marketing techniques in accordance with the Search Engines which is visible in their SEO packages. eBrandz also offers 24 hours support (Monday to Friday) to its clients.
Press Kit: http://www.ebrandz.com/press-kit.htm