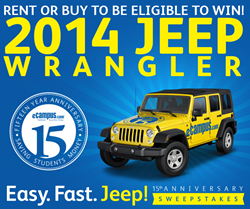 'I am proud of all the employees who helped us accomplish such a milestone. We appreciate our loyal customers and we look forward to continuing our success in the years to come.' - President and CEO of eCampus.com, Matt Montgomery
(PRWEB) July 29, 2014
July 2014 marks fifteen years of business for Lexington-based company eCampus.com. To celebrate this exciting milestone, the textbook etailer launched a nationwide sweepstakes that began Monday, July 28th and will run through Friday, September 12th. With no purchase necessary, one Grand Prize Winner will be awarded an eCampus.com themed 2014 Jeep Wrangler on or around September 23rd.
This nationwide sweepstakes is reminiscent of past eCampus.com promotions. In 1999, the company's founding year, eCampus.com ran a similar promotion titled the "Wanna Winna Hummer" sweepstakes - giving away a fully-loaded Hummer H1. After winning the sweepstakes, Daniel Drawe, a graduate of Southern Utah University, screamed "This is like winning the lottery!" A reaction deemed memorable by eCampus.com.
Originally supported by investors including Wendy's franchise founder, Dave Thomas, eCampus.com quickly achieved industry recognition by offering one of the largest selections in used textbooks. The company expanded a new division in 2002, the Virtual Bookstore program, that currently serves as the official bookstore for over 100 schools nationwide. In 2008, eCampus.com was among the first online college bookstores to provide electronic textbooks (eTextbooks) and in 2009, eCampus.com was also among the first to allow students to rent their textbooks. Most recently, in 2013, eCampus.com launched eTechCampus, a full 1:1 consulting service that implements a digital learning solution and houses the largest digital library in the country.
"Our success is driven by our ability to adapt in the ever-changing market. It is rewarding enough to remain a leading competitor in this industry," said Montgomery, "I am proud of all the employees who helped us accomplish such a milestone. We appreciate our loyal customers and we look forward to continuing our success in the years to come."
For the Official Rules of the 15th Anniversary Sweepstakes, please visit http://www.eCampus.com/jeepsweeps.
About eCampus.com
eCampus.com is the internet's premier source of new, used and electronic textbooks, textbook rentals, affiliate and virtual bookstore fulfillment programs and book buyback services. eCampus.com's mission, summarized in its motto Textbooks. Easy. Fast. Cheap., is to provide students access to the largest selection of textbooks in all formats at the lowest possible prices, backed by state-of-the-art customer support.