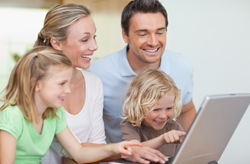 'Gifting' is a verb, and is about creating an emotional connection between sender and recipient. The eCardGiftNotice webcam and other gift messaging tools help bridge the personalization gap, even for last-minute gift giving.
Los Angeles, CA (PRWEB) December 20, 2013
This holiday season, eCardGiftNotice.com is removing the stress and challenges of last-minute gift giving with their innovative online solutions. At http://www.eCardGiftNotice.com, one can buy a gift or gift card online, or in stores; then email a gift notification such as a webcam recording, an eCard, or printable certificate to let the recipient know the gift is on the way.
The popularity of electronic gift card purchases has grown according to the NRF, but continues to be viewed by older customers as impersonal and done without much thought. The benefit to the instantaneous electronic gift cards is getting "something" sent in time for a gift occasion; however the perceived impersonal nature diminishes the overall gift experience for older consumers. Younger consumers like giving and receiving gift cards, but the personalization of those remains quite limited. The eCardGiftNotice solutions can be used to create meaningful and personal messaging to go with the flexibility of those cards.
eCardGiftNotice has personalized and expedited the gifting process for any and all gifts one would want to send to anyone too far away to hand deliver.
Other benefits of utilizing eCardGiftNotice include:

solutions to backordered items and pre-ordered gifts
emailed notices of gifts sent to loved ones in the military deployed overseas
gift arrival solution for long shipping lead times
avoided expensive expedited shipping charges
avoided challenges of perishable food shipments sitting if the recipient is unaware they were being shipped
printable options also allow for instant hand-delivered gift giving
any gift tag or card can also include a "short link" to a video gift message right on the package
About eCardGiftNotice: Founded in 2000 to help personalize gift giving from online purchases, it has been providing eCard and printable gift notices on top retail sites. This holiday season, the company added WebCam options and is making the service free to all consumers through a wide range of top brands in online retail.
Learn more at http://www.eCardGiftNotice.com.