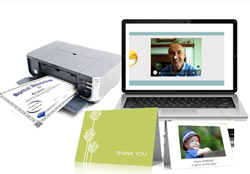 "Gifting" is a verb, and is about creating an emotional connection between sender and recipient. The eCardGiftNotice webcam and other gift messaging tools help bridge the personalization gap online gift buying and gift shipping created.
LA, CA (PRWEB) October 08, 2014
eCardGiftNotice is pleased to announce that this season, it will be redefining the online gift giving experience with its free webcam and other personalized messaging options. The growth of online gift shopping and great distances between loved ones are new trends that combined to create a prevalence of impersonal "gifting". Brown boxes arriving with short, or no gift messages, or gift cards with ten word messages are the "new, impersonal norm", says founder David MacMahan.
In the past, giver and recipient could see the smile and joy of the other, creating that emotional connection. Now webcam recorded gift messages will reestablish that connection. Some online stores like BestBuy.com and Overstock.com offer to send a text "you have a gift shipped from Overstock.com" message after the order ships. 1800Flowers offers a variety of similar gift messaging options after one buys there, but not including the gift information and photo.
eCardGiftNotice is available for free to any online store that wants to add it, or for a nominal fee for retailers wanting it in their brand. One can start at eCardGiftNotice's Go Shopping.
"American families today are scattered across the country and world, but the desired feelings and connections through gifting remain strong", stated David MacMahan.
MacMahan founded the company in 2000 to bridge the lack of personalization in gift messages and to provide a way to solve last-minute gift delivery fears. David points out that: "Fourteen years ago we were no where near the 70% high speed presence in homes and 94% availability we have today." (Pew Research Study) Webcams installed on most computers, combined with that high speed availability is what he credits as the reason video gift messages, and other creative gift expressions (link) will be viable this holiday. Packages can arrive with a link on the packing slip to the gift message recorded, or a notification will arrive via email. MacMahan suggests if one is shopping online and finds that perfect gift, but then see that it says 7-10 business days to arrive- right click on that gift image, save it, and come to eCardGiftNotice.com. One can then create a free gift notice and have it arrive via email, just at the right time. If the brown box arrives late; well the important part.... "The Thought That Counts", and information about the gift will be there right on time." (Video)
So this holiday, the mobility of society and the growth of the internet and internet shopping that had previously worked to depersonalize traditional gifting, has enabled eye to eye gift giving again with web-cam messaging- getting us much closer to how it used to be.
MacMahan says: "If you are tired of your gift packages arriving in brown boxes with little or no message, and late if there is any UPS or FedEx issue, take control of your gift messaging this holiday."
eCardGiftNotice is a service of Upresent.com, founded in 2000 with the mission of making gift giving personal again. eCardGiftNotice pioneered notifying gift recipients, "A Gift is On The Way" as a solution to high cost overnight shipping, limited gift messaging options to go with packages, and families being separated more today than in the past. eCardGiftNotice has provided it's services private labeled to Top 100 online retailers since 2000.