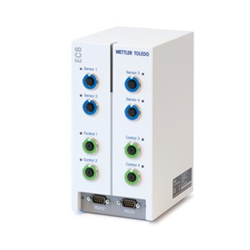 The Easy Control Box connects any lab sensor and pump to make real-time measurement and controlled dosing available to non-experts.
(PRWEB) February 07, 2017
METTLER TOLEDO is pleased to announce that the ECB (Easy Control Box) is now available. The ECB connects any lab sensor and pump to make real-time measurement and controlled dosing available to non-experts.
Combining data from all sensors in a single experiment allows researchers to quickly evaluate and compare experimental results and make decisions to speed chemical process development. Plug-and-play capabilities allow researchers to move sensors or pumps from one reactor to another within minutes – without the need for expert knowledge.
Pumps and balances connect to the ECB for automated pre-programmed gravimetric dosing. Linking temperature with dosing control enables reagent addition to stop in dangerous exothermic situations. Experiments can run unattended, allowing more experiments to be performed under safe conditions.
SmartConnect technology makes connections with existing analog sensors plug-and-play. The sensor calibration and configuration data are on an integrated chip ensuring measurements are always accurate and precise applying the current sensor calibration data.
Data from any analog sensor, such as mass flow, pressure, temperature or turbidity, is captured and stored in the experiment file together with other key process parameters. Additional sensor data leads to more knowledge about the reaction and better decisions to speed process development.
As measuring and controlling pH precisely is essential for numerous applications, the plug-and-play pH module enhances the capabilities of the ECB significantly, enabling pH measurement and control from 50 mL up to multiple liters.
About METTLER TOLEDO
METTLER TOLEDO provides Process Analytical Technology (PAT), automated synthesis reactors, and in situ sampling. In situ FTIR spectroscopy and automated sampling provides continuous analysis of reactions. Inline particle analysis enables crystallization development with continuous particle size measurements. Automated reactors and reaction calorimetry provides process knowledge to identify and eliminate scale-up and safety incidents.