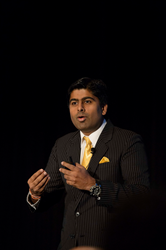 Bavisi challenged the industry leaders to "stop manufacturing the problem" and invest in secure coding and network administration education
Albuquerque, NM (PRWEB) November 25, 2014
In a rousing speech made to a packed audience at the World Internet Conference held November 19th - 21st in the historic city of Wuzhen in Zhejiang Province, Jay Bavisi, President and Founder of EC-Council, pushed for emphasis on solving cybersecurity threats by focusing on secure coding, the creation of a global legal framework, and better education initiatives. The theme of the event, "Interconnected World, Shared and Governed By All" resonates on the information security industry as cyber crime is a global problem in need of global solutions. Top executives from Chinese tech firms, including Baidu, Alibaba, and Tencent, as well as representatives from Apple, Amazon, Microsoft, Samsung, LinkedIn, and non-profit organization ICANN attended the conference.
Bavisi's presentation began by explaining to the eager audience that the good guys are losing the war on cyber crime. Every year, reports of security breaches, malware, and cyber attacks increase while innovation in information security lag behind. Bavisi's solutions to the growing "cyber plague" include establishing a global legal framework from which countries and organizations around the world can confront and combat threats to data security. This should include, according to Bavisi, globally connected emergency response teams to work together to combat security breaches as they happen in cooperation with law enforcement. Further, Bavisi suggests improving laws by removing conflicting and ambiguous language and strengthening the enforcement of laws.
However, education remains the biggest problem. Bavisi points out that "We continue to teach people to use internet but not teach them internet security, we continue teach people to code but not secure coding, and we continue to teach people to build networks but not network security and yet we are shocked that we are losing the war!" He went on to note that the vast majority of university programs do not teach information security as part of their curriculum, thus producing leaders with no skills in securing information.
India, a country recognized for its technological industry, itself was found lacking when EC-Council analyzed its programmers' skills through the Code.Uncode competition. EC-Council found that just under one percent of India's computer engineers had basic skills in secure coding.
Bavisi challenged the industry leaders to "stop manufacturing the problem" and invest in secure coding and network administration education for their employees by supporting EC-Council initiatives such as Global Cyberlympics, Code.Uncode, the Certified Ethical Hacker (CEH) program, etc.
About EC-Council
The International Council of E-Commerce Consultants (EC-Council) is a member-based organization that certifies individuals in various e-business and security skills. EC Council is the owner and developer of the world-famous E-Council Certified Ethical Hacker (CEH), Computer Hacking Forensics Investigator (C|HFI), Certified Security Analyst (ECSA), License Penetration Tester (LPT) programs, and various others offered in over 60 countries around the globe. These certifications are recognized worldwide and have received endorsements from various government agencies including the US Federal Government via the Montgomery GI Bill, and the US Government National Security Agency (NSA) and the Committee on National Security Systems (CNSS) certifying EC-Council's Certified Ethical Hacking (CEH), Network Security Administrator (ENSA), Computer Hacking Forensics Investigator (CHFI), Disaster Recovery Professional (EDRP), Certified Security Analyst (E|CSA) and Licensed Penetration Tester (LPT) program for meeting the 4011, 4012, 4013A, 4014, 4015 and 4016 training standards for information security professionals and most recently EC-Council has received accreditation from the American National Standards Institute (ANSI).
For more information about EC-Council, please visit http://www.eccouncil.org.