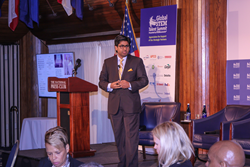 Bavisi addressed the crowd regarding the tremendous threats crucial organizations like hospitals face. Just 10 days later, Britain's National Health Service (NHS) faced the worst attack it has ever seen.
Washington, D.C. (PRWEB) May 16, 2017
At the Global STEM Talent Summit in Washington, D.C. on April 28, EC-Council President and Founder Jay Bavisi presented a keynote talk that resonated deeply with STEMconnector's core mission. Introduced by Edie Fraser, CEO of STEMconnector, Bavisi addressed the crowd regarding the tremendous threats crucial organizations like hospitals face. Just 10 days later, Britain's National Health Service (NHS) faced the worst attack it has ever seen. The attack affected up to 70,000 devices vital to the operations of many hospitals all over Britain such as computers, MRI scanners, blood-storage refrigerators and other equipment.
His presentation covered the beginnings of the ethical hacking industry, from resistance from governments and businesses to the word "hacking" to today where cyber risk is now an existential threat to organizations around the world. In his keynote, Bavisi touched on the hacking of medical devices, the threat of ransomware, and the fact that large organizations are not doing enough to protect their essential functions. These points all factored into what happened last week.
However, even though hacker is no longer a bad word, there is still resistance from organizations to spend money to secure their information. Despite an increase in technology solutions to help organizations secure their most important assets, there are more serious breaches every year. The root of the problem, according to Bavisi, is there is a severe shortage of talent. This is due at least partly to the fact that there aren't foundational information security training programs integrated into traditional education. When testing programming students, for example, EC-Council found that out of 11,000 computer science students, 99.7% did not understand the basics of cybersecurity. This means that when these programmers enter the workforce and start creating and managing code for corporations and other organizations, their code will likely function but will be insecure, creating huge vulnerabilities for malicious hackers to exploit.
The solution, according to Bavisi, is increasing the awareness of cybersecurity all over the world via gamification. One example of this solution, is EC-Council Foundation's Global CyberLympics, their worldwide hacking competition. For organizations, Bavisi recommends re-training existing IT workers as information security experts to fill gaps in security programs. The best solution highlighted by Bavisi is for organizations to partner with education and training providers to develop custom training programs designed to ensure that incoming employees meet the needs of the organization.
The Global STEM Talent Summit Initiative was designed as an employer led three-year Strategic Roadmap to deliver short, mid and long-term STEM Talent development strategies from implementation, execution and impact. In addition, the Summit offers deep dive discussions and perspectives on future STEM 2.0 capabilities required for STEM talent to be highly successful in careers pathways.
About EC-Council 
EC-Council has been the world's leading information security certification body since the launch of their flagship program, Certified Ethical Hacker (CEH), which created the ethical hacking industry in 2002. Since the launch of CEH, EC-Council has added industry-leading programs to their portfolio to cover all aspects of information security including EC-Council Certified Security Analyst (ECSA), Computer Hacking Forensics Investigator (CHFI), Certified Chief Information Security Officer (CCISO), among others. EC-Council Foundation, the non-profit branch of EC-Council, created Global CyberLympics, the world's first global hacking competition. EC-Council Foundation also hosts a suite of conferences across the US and around the world including Hacker Halted, Global CISO Forum, TakeDownCon, and CISO Summit.
For more information about EC-Council, please see http://www.eccouncil.org.
About STEMconnector® 
STEMconnector® is a consortium of 165 member companies, associations, societies, policy organizations, government entities, universities, and academic institutions concerned with STEM education and the future of human capital. With several products and services, STEMconnector® is both a resource and a service, designed to link "all things STEM." STEMconnector's network includes organizations at the global, national, state, and local levels. STEMconnector® focuses on the STEM workforce and jobs, with a particular emphasis on diversity and women. Our work spans the entire pipeline (Kindergarten to Jobs) and how STEM education experiences translate into careers.