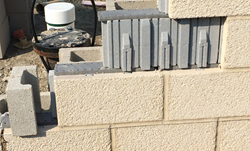 To win product honors for both InsulTech, our masonry block wall performance system, and our new lightweight veneer collection offers validation that Echelon is helping answer market needs.--Ken O'Neill, EVP, Oldcastle Architectural
Atlanta, GA (PRWEB) January 31, 2017
Oldcastle® Architectural's Echelon Masonry product line ended 2016 with a collection of accolades from major architectural publications. Echelon's InsulTech™ Concrete Masonry System (ICMS) won an Architectural Record (AR) Magazine Best Product Award for 2016 published in the December issue, judged by a distinguished panel of architects and specifiers based on criteria including innovation, functionality, and aesthetics. InsulTech also ranked number 20 in Building Design & Construction's Top 101 Products published in December, based on reader inquiries and editor input.
Echelon's product kudos continued in December with a win in Architectural Product's Top AP 50 Readers Choice awards for the Artisan Collection's Westpeak Lightweight Veneers in three popular colors. The AP 50, now in its 14th year, is based on readers' responses to the most intriguing products for architects.
According to Ken O'Neill, EVP, Sales, Marketing & Product Development for Oldcastle Architectural, "These recognitions are special to our brand because they come from industry peers who see the value in our newly consolidated masonry portfolio. In addition, they help energize our entire team as we begin the new year," said Ken O'Neill, EVP, Sales, Marketing & Product Development, Oldcastle Architectural. "To win product honors for both InsulTech, our masonry block wall performance system, and our new lightweight veneer collection offers validation that Echelon is helping answer market needs."
InsulTech can meet and often exceed code while offering multiple design options, with thermal efficiency, continuous insulation, moisture management and great exterior and interior aesthetics. It features a structural concrete masonry unit, a molded insulation insert and on the exterior, a beautiful, lightweight stone veneer finish in several options all in one unit.
Westpeak is a unique lightweight veneer from Echelon's Artisan Collection, featured in colors of Onyx, Wheat and Magnolia. Westpeak Lightweight Veneer's stone aggregate is the perfect complement for virtually any interior or exterior application due to its tight dimensional tolerance. And the color is integrated throughout every stone, not just the surface, for lasting beauty. For more information about these award-winning products and more, visit http://www.EchelonMasonry.com.
About Echelon Masonry
Echelon is the consolidated brand for all masonry products and services of Oldcastle Architectural including Trenwyth® Architectural Masonry, Artisan Masonry Stone Veneers®, Quik-Brik® Concrete Masonry Units, Amerimix® Bagged Goods and a complete portfolio of Performance Upgrades. As a single source masonry portfolio solution, Echelon delivers consistent, reliable product manufactured locally at more than 170 locations and delivered by an unrivaled logistics network. For more information, visit EchelonMasonry.com.
About Oldcastle® Architectural
Oldcastle Architectural is the largest concrete products manufacturer in North America. With more than 150 locations and a company culture characterized by a commitment to customer satisfaction, Oldcastle adheres to a level of service and consistency that no other supplier can match. Our combination of local market presence and national capabilities allows us to meet and exceed the demanding needs of an ever-changing industry. Learn more at EchelonMasonry.com