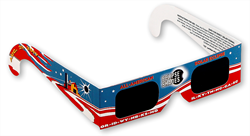 Seeing a total eclipse is an unforgettable, life changing experience. With the proper eye protection, you get to watch the whole process and all the partial phases of the eclipse safely," said Margolis
Reseda, California (PRWEB) September 15, 2016
On Aug. 21, 2017, the All American Eclipse will make its way across the United States, the likes of which has not occurred in the US since 1979. The total eclipse, which begins in Ore. and exits in S.C., will be visible as a partial eclipse for much of the North American continent. At a factory in Los Angeles, Calif. one company has been preparing for this event for years.
Founded by eclipse chaser Mark S. Margolis nearly 40 years ago, Rainbow Symphony is not only the largest manufacturer of eclipse glasses in the world, but is also a developer of plastic designer eclipse glasses, solar viewers and solar filters for telescopes and binoculars.
"Seeing a total eclipse is an unforgettable, life changing experience. With the proper eye protection, you get to watch the whole process and all the partial phases of the eclipse safely," said Margolis.
Though it was only 38 years ago that the last total eclipse occurred in the US, it has been 99 years since "totality" crossed from the Pacific to the Atlantic. During such an event, the sun, moon and Earth align and for those brief minutes, the sun's atmosphere is visible to the human eye. A brilliant white corona bursts from behind the darkened moon as the sky fades to dusky night. The prediction of a solar eclipse can be calculated centuries in advance."
The Eclipse will pass directly over cities such as Salem, Ore., Idaho Falls, Lincoln, Neb., Kansas City, Nashville, and Columbia and Charleston, S.C. Places within a one- or two-hour drive of the eclipse include Portland, Ore., Boise, Cheyenne, Rapid City, Omaha, Neb., Topeka, St. Louis, Louisville, Knoxville, Chattanooga, Atlanta and Charlotte.
An estimated 12 million people live within the path of totality, according to Space.com. The number of people within just one day's drive of the totality zone is around 200 million.
Featured on CNN and in Astronomy Magazine, Rainbow Symphony works with leaders in the eclipse community including eclipse cartographer Michael Zeiler, top eclipse chaser Fred Espenak and various filmmakers. They also sponsor the Charlie Bates Astronomy Project, the largest solar outreach project in the world.
With lenses made from tested and certified scratch resistant, black/silver polymer, the company's Eclipse Shades filter out all harmful ultra-violet and infrared rays as well as 99.9 percent of intense visible light, while maintaining a sharp orange image of the sun's disk.
All Eclipse Glasses manufactured by Rainbow Symphony meet the following Standards: EN 1836:2005 & AS/NZS 1338.1:1992 for Eclipse filters (Queensland Directive)
Meets the Standard for ISO 12312-2:2015.
Though the eclipse is just under a year away, Rainbow Symphony has been preparing for years for last minute shortages of eclipse glasses. They have begun an outreach campaign for Eclipse Shades, to ensure that as many people as possible will be able to view one of the greatest solar events of the century.
Eclipse Shades can be pre-ordered on their website at https://www.rainbowsymphonystore.com/collections/eclipse-glasses-safe-solar-viewers
Video Courtesy of Michael Zeiler The Great American Eclipse 2017