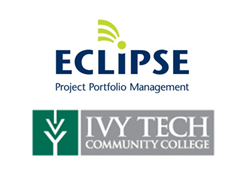 Toronto, Ontario (PRWEB) April 09, 2014
As a large college facing tight resource constraints Ivy Tech Community College quickly needed to address the challenges of manual processes that largely impacted the areas of intake and prioritization. It wasn't uncommon for projects to be put on hold for other more important projects being taken on.
Ivy Tech Community College has a solid formal change management process in place, which has allowed them to focus on consolidating all of their IT services and evaluate process improvement projects. On top of this, Ivy determined that they additionally needed one solution they could use across their entire team to assist in creating automated processes, easily track and report on progress, better understand resource constraints and apply greater consistency throughout.
Eclipse PPM was selected as the leading project portfolio management solution largely because of its flexibility to be applied to a simple approach project right through to a more complex project with greater depth. Additionally, the ease of use of the tool stood out as a key buying proponent, which would allow greater adoption by users.
About Ivy Tech Community College
Ivy Tech Community College prepares Indiana residents to learn, live, and work in a diverse and globally competitive environment by delivering professional, technical, transfer, and lifelong education. Through its affordable, open-access education and training programs, the College enhances the development of Indiana's citizens and communities and strengthens its economy. For more information visit: http://www.ivytech.edu/
About Solution Q
Solution Q is the maker of Eclipse PPM, project portfolio management software that helps to simplify project and portfolio management to make it more successful for 'all voices in the room.' Solution Q provides a combination of process, PPM software and partnership to deliver improved business results. For more information visit http://www.eclipseppm.com/content/eclipse-project-portfolio-management-software