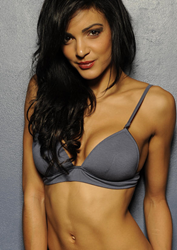 The [Pine Tree Lingerie] line represents a true fusion of figure-defining styles, gorgeous French lace and sustainability.
Happy Valley, OR (PRWEB) June 18, 2014
The French are known for their creativity – especially when it comes to pastries and lingerie. Eco-Fashion e-tailer FaeriesDance.com is known for its expansive collection of organic bras and panties. So when Faerie's Dance found "Do You Green" making sexy, eco-friendly lingerie out of recycled pine tree prunings, there was an instant attraction.
The raw material for this unique lingerie line is acquired through cooperation with tree trimming companies. This eliminates the need to cut down virgin trees, instead using the large amount of tree prunings and discarded cut trees that are already available. The unique fabric is made exclusively in France using an enzyme-based eco-process that turns the pine into a viscose. The end result has a supple drape similar to rayon with a cashmere-like softness.
According to Sophie Young, Do You Green's founder and designer, the line represents a true fusion of figure-defining styles, gorgeous French lace and sustainability. To top it off, the lingerie is relatively easy to care for. It's safe for gentle machine washing, though shouldn't be machine dried. It's even purported to have anti-perspiration properties.
A number of these stunning pine tree bras, including the first eco-friendly strapless bra, are available online now at FaeriesDance.com. Of course, the men haven't been forgotten. Men's pine tree fabric boxer briefs are also available.
About FaeriesDance.com
FaeriesDance.com, an eco-friendly e-tailer, offers sustainable apparel and specializes in hard-to-find items such as organic cotton bras and lingerie. FaeriesDance.com sources clothing made from sustainable fabrics and low-impact dyes. They only work with overseas manufacturers who ensure all workers are treated fairly and are safe from sweatshop conditions. The company is named after the mythological woodland creatures that live in the heart of the forest, honor all things in nature, and who celebrate life with joyous abandon.