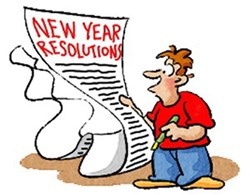 Making New Years resolutions isn't always easy, this year help keep the environment clean and safe by making an easy eco-friendly resolution.
San Francisco, California (PRWEB) January 13, 2014
The beginning of a new year is the prime time to make positive goals, and for many people, those goals revolve around the creation of a greener lifestyle. Living in a more green way not only helps the environment, but it can also improve the individual's quality of life and help save money.
The team at SecuritySystemReviews.com, a security systems review site that provides tools and resources to help consumers compare security systems, has created a list of tips to help people get started with their 2014 eco-friendly resolutions:
1. Start small by making a commitment to stop buying bottled water. There are many alternatives to bottled water, including filtering pitchers and reusable water bottles. Purchasing bottled water can not only help the environment (it takes almost two million barrels of oil to make plastic water bottles, annually), but can also save a lot of money at the grocery store.
2. Use reusable grocery bags. This is an extremely simply way to go green, and it's an easy resolution to keep. Start the new year by buying fun, colorful and reusable grocery bags, and help prevent plastic and paper bags from ending up in the world's landfills.
3. Try swapping paper towels for cotton or fabric cloths.
4. Try eating vegetarian meals one or two days a week. Many people don't realize that being a vegetarian isn't just a personal preference—it also has an impact on the environment, and eating just a few meatless meals can go a long way in terms of reducing an individual's carbon footprint.
5. Consider using a home automation system. These innovative systems have become very affordable and easy to install in recent years, and can be used to control everything from lights to a home's thermostat. They're not only green, but they can also help homeowners save big on electric bills.
6. Replace old light bulbs with compact fluorescent lights. This is inexpensive, easy and takes just a few minutes to complete. It also reduces a home's energy usage by as much as 80 percent.
7. Use a reusable coffee mug, rather than getting a disposable cup during each visit to the local coffee shop. For an even bigger reduction of their carbon footprint, people can brew their own coffee at home, and use Fair Trade coffee, to go the extra mile.
These are just a few easy and green New Year's resolutions that can have people starting 2014 on the right foot.
About SecuritySystemReviews.com
SecuritySystemReviews.com is a trusted and relied-upon third party resource for consumers considering the purchase of a home security system. The site offers regional and state-by-state reviews and rankings of top companies and equipment, from Nevada security systems to Maine security systems, as well as every other state in the country.