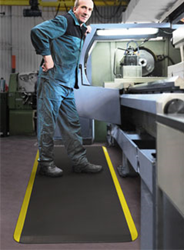 The new Eco-Pro Anti-fatigue Mats were shown superior to other mats in a study by Texas A & M's Health Science Center
Cleveland, Ohio (PRWEB) September 02, 2014
The new Eco-Pro Anti-fatigue Mats use proprietary Cellulon® Polyurethane technology to reduce discomfort and fatigue by absorbing stress and impact caused by standing on hard flooring. Using an eco-friendly, renewable bio-foam core, these anti-fatigue mats are intended for dry work areas, and made in the USA. According to a study by the Texas A&M University, Eco-Pro was the only anti-fatigue mat showing a significant difference in reducing spinal compression and increase in sit-reach flexibility at day's end.
These 3/4 inch thick, ergonomically designed anti-fatigue mats provide the perfect balance of premium comfort and optimal support for workers who stand. The commercial grade, Cellulon® core rapidly returns to its original shape and will never bottom out under pressure.
With a five year warranty, the eco-friendly, renewable Bio-Foam, one-piece construction stands up to the rugged demands of industrial and commercial work environments. The matte top surface provides optimum friction, and the low profile, beveled edges provide further safety. The high-traction mat bottom is certified by the National Floor Safety Institute.
According to company president Dan Ruminski, "The new Eco-Pro Anti-fatigue Mats were shown superior to other mats in a study by Texas A & M's Health Science Center."
The safety and productivity benefits of these mats include:

Reduces discomfort & fatigue caused by standing on hard flooring
Provides cushioned support that never bottoms out or delaminates
Anti-microbial properties
These new safety floor mats are available in three colors and five standard sizes ranging from 20" x 32" up to 36" x 60".
About Martinson-Nicholls
Martinson-Nicholls, has established itself as a leader in custom anti-slip tape, floor mats, and eco-friendly products for 60 years.
Martinson-Nicholls provides the customer with the exact size matting needed--small, large, standard, nonstandard, special shapes and logos. Custom installations are also a specialty of the company.
Anti-slip safety tapes and treads are available in various sizes and textures from hand cut or die cut pieces to full rolls and special shapes. For more information, please visit http://www.floormat.com.