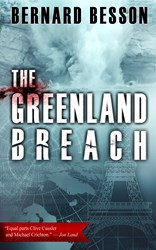 Equal parts Clive Cussler and Michael Crichton.
New York, New York (PRWEB) October 30, 2013
In Le French Book's newest release, "Bernard Besson takes the eco-thriller to a new level," according to bestselling author Jon Land. The Greenland Breach is a stylish cli-fi spy novel with environmental catastrophe, geopolitical fallout, freelance spies and Bond-like action.
The battle for knowledge
Prizewinning thriller writer and former French intelligence officer Bernard Besson says, "Today, keeping things top secret is less important than being quick to think and gather information. One of the key battlegrounds is business, and both nations and multinational corporations are fighting for essential strategic knowledge they hope to be the first to use. In my novel The Greenland Breach, the heroes are little-known actors in this economic war for the future. Those with the best information will win the battle. The blood splattered on the ice sheets of Greenland belongs to shadow fighters, mercenaries fighting battles we don't learn about on the evening news."
Melting ice caps and freelance spies
The arctic ice caps are breaking up. Europe and the East Coast of the United States brace for a tidal wave. Meanwhile, former French intelligence officer John Spencer Larivière, his karate-trained, steamy Eurasian partner Victoire, and their computer-genius sidekick Luc pick up an ordinary freelance assignment that quickly leads them into the glacial silence of the great north, where a merciless war is being waged for control of discoveries that will change the future of humanity.
World-acclaimed translator
The Greenland Breach was translated by world-acclaimed translator Julie Rose. She has had a long and illustrious career translating French classics (over 30 books and plays to date). This is her first thriller, unless one counts Les Misérables, which Rose considers one of the first great detective novels of our time. She says, "The Greenland Breach is stylish and fast-paced, with beautifully orchestrated action--like a sophisticated manga--and it's written by a man who knows exactly what he's doing. The images of the collapse of Greenland as the ice cap melts are stunning and stay with you, every bit as much as the finely tuned intrigue of industrial espionage."
Praise
"A masterfully paced and wondrously prescient cautionary tale... Equal parts Clive Cussler and Michael Crichton, it is a terrific story that charges out of the gate and speeds in relentless fashion to a wholly satisfying finish." –Jon Land, bestselling author of Strong Rain Falling
"Original and harrowing." –Cosmopolitan
"This is a remarkable book that is fascinating, frightening, instructive and fun all at once." –Inter-Ligère
"Suspense is omnipresent from beginning to end. Besson progressively weaves a web that entraps the readers." –Culture et Plaisir par la lecture
The Greenland Breach
by Bernard Besson; translated by Julie Rose—$9.99—published by Le French Book—ISBN: 978-1-939474-94-0 (Kindle)/ 978-1-939474-95-7 (epub)—First published in French (Groënland, Editions Odile Jacob, Paris)—Digital-first translation; available on all major e-book platforms on October 30,2013.
About Le French Book
Le French Book (http://www.lefrenchbook.com) is a New York-based digital-first publisher that brings France's best crime fiction, thrillers, novels, short stories, and non-fiction to new readers across the English-speaking world. Its motto is: "If we love it, we'll translate it."
©2013 Le French Book, Inc. All rights reserved. Information is subject to change without notice.