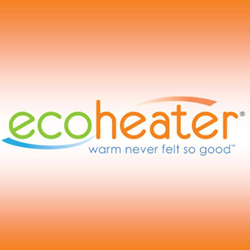 Anyone who has ever woken up with a chill on a cold day or finds themselves wrapped in a blanket to watch TV will appreciate these low-energy wall panel heaters.
Alexandria, VA (PRWEB) September 16, 2014
Winter is right around the corner, so now is the time to prepare for the upcoming season. One way people can ready their homes is by making sure they have energy-efficient heaters to supply supplemental heat in specific rooms where needed.
ECO-heater offers a line of wall-mounted heaters to warm bedrooms, offices and other spaces that have a chill. With prices that start under $100, these wall panel heaters are a cost-effective solution for a typical room.
"According to the most recent edition of The Old Farmers Almanac, temperatures are expected to be below normal this winter across much of the United States and Canada," said Christyana Hopkinson, ECO-heater sales manager. "Our low-energy wall panel heaters can provide convenient zone heating on cold days…meaning you can warm up rooms that need it, without raising your central heating thermostat."
A practical alternative to traditional space heaters, ECO-heaters use only 400 watts of electricity—not 1,500 watts—consuming 70 percent less energy. And since these wall-mounted heaters do not use fans, no dust is kicked up and spread around, and there are no moving parts that can burn out.
ECO-heater's Silent Flow™ convection heating technology provides quiet and efficient operation. Cool air is naturally drawn up from below the unit and heated in the space between the back of the unit and the wall. Warm air then rises and circulates throughout the room, and the process is repeated. A reflector on the back of each wall-mounted heater prevents warm air from being absorbed into the wall, making it even more effective. For controlled and consistent temperature, ECO-heater's T-Series have built-in thermostats.
"Anyone who has ever woken up with a chill on a cold day or finds themselves wrapped in a blanket to watch TV will appreciate these low-energy wall panel heaters," said Hopkinson.
Another benefit wall-mounted heaters have over traditional space heaters is that they are securely attached to the wall. Measuring less than 24 inches square and mounted about an inch off the wall, they are inconspicuous.
"You can paint the ceramic ECO-heater to blend in with your décor using common Latex paint," said Hopkinson. "Even better, they're not an eyesore or tripping hazard in the middle of the room."
She noted that installation for wall-mounted heaters is easy with common household tools such as a level, drill and screwdriver. Then simply plug into a wall outlet to run.
"Even a novice can follow the simple instructions included in the package and install an ECO-heater on the wall in about 15 minutes," she said.
Larger spaces such as a basement or garage also can benefit from energy-efficient heaters because ECO-heaters are scalable. People can install as many wall-mounted heaters as needed to achieve the comfort level they desire.
ECO-heater, Inc. manufactures and distributes economical supplemental heating solutions for the home or office. Rigorously tested to meet the Underwriters Laboratory (UL) standard, ECO-heater is designed to provide years of maintenance-free service and is backed with a full three-year manufacturer's warranty.
ECO-heaters are available at select Lowe's and many local hardware stores, as well as online. For more information on ECO-heater's line of wall-mounted heaters, visit http://www.ecoheat.com.