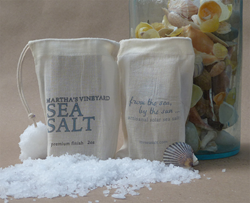 "The ECOBAGS® packaging is unique and consistent with our values. The customer service was outstanding. Eco-Bags Products delivers value in every step of the process." Heidi Feldman, Founder MV Sea Salt.
Ossining, NY (PRWEB) February 27, 2014
When Eco-Bags Products, known for its popular line of ECOBAGS® natural cotton bags, was approached to create the retail packaging of the sustainability-focused artisanal sea salt company, Martha's Vineyard Sea Salt, they both knew there was a match. "We searched for months to locate packaging for MV Sea Salts; packaging that would marry our brand commitment to both reusable and artisan. A trip to the grocery store with our ECOBAGS® tote bag gave us our 'aha' moment. It was a perfect match on so many levels" says Heidi Feldman, who co-founded MV Sea Salt with her husband, Curtis Friedman.
Retailers on Martha's Vineyard, like upscale food emporium LeRoux Kitchen, say that the unique soft packaging works well in the retail environment because it's different, creates an experience, and it is a clear environmentally conscious choice. ECOBAGS® responsibly produces cotton goods with non-toxic dyes that are reusable,100% recyclable & biodegradable. MV Sea Salt is the perfect gift for home cook or dinner party in this packaging.
About Eco-Bags Products, Inc.
Eco-Bags Products, Inc. is a certified B-Corporation and member of Green America and the Organic Trade Association. Sharon Rowe, CEO & Founder, is a recognized thought leader in the reusable bag movement and kick-started the reusable bag movement in the U.S. 25 years ago. ECOBAGS®, The ECOBAGS Logo are trademarks of Eco-Bags Products, Inc.
Feel free to contact us for ECOBAGS® hi-res images, photo shoot samples or additional information.