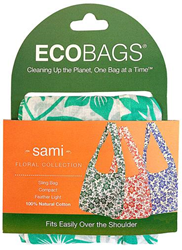 Your customers will find a multitude of uses for the sami "Floral Collection"
(PRWEB) March 06, 2014
The sami "Floral Collection" is the newest and chicest addition to the ECOBAGS® line. The sami is a casual, ultra lightweight cotton sling tote. Your customers will find a multitude of uses for sami floral. Designed for people who want to say "no" to plastic bags no matter where or when they shop, sami is easy to carry and fits effortlessly inside of other bags.
The sami is feather-light, sheer and billowy, washable and very sturdy - able to hold up to 15 lbs! The sami "Floral Collection" comes with three different color options (blue, emerald, or tangerine) and is perfect for the summer months: to bring to the beach, outdoor markets, a yoga class, and for travel. Like all ECOBAGS®, sami floral is washable, reusable, and 100% recyclable. Sami is made responsibly with 100% natural cotton gauze, azo free non-toxic dyes, and is totally Eco-Chic.
About Eco-Bags Products, Inc.
Sharon Rowe, CEO and Founder, created ECOBAGS® in 1989 to "clean up the planet one bag at a time™" bringing the concept of responsibly produced, reusable bags to the market. Rowe kick-started the reusable bag movement in 1990 when she introduced ECOBAGS® at the 1990 Earth Day Celebration on Sixth Avenue in New York City. Since then ECOBAGS® has been growing and expanding but never forgetting their ultimate goal of social and environmental responsibility.
Feel free to contact us for ECOBAGS® hi-res images, photo shoot samples or additional information.