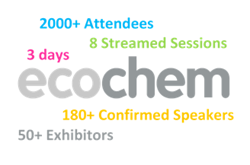 (PRWEB UK) 11 September 2013
Market leaders including Dow, BASF, Clariant, Evonik, DuPont, INEOS, Nestle, Nike, Volkswagen, P&G, Novartis and L'Oreal will share insight, breakthrough research, and disruptive new concepts and technologies – all to inspire and equip the leaders of tomorrow with the critical strategic and technical knowledge, contacts and skills needed to reinvent businesses and economies.
The business case for sustainability continues to grow – the Green Chemistry market is expected to increase by nearly $100 billion between 2011 and 2020.
Organisations and delegates visiting the Ecochem event do so to think differently, build shared vision, leverage new technologies, implement new ideas and discover unexpected partnerships, cross sector deals and transformational plans that contribute to the collective benefit of people, the planet and profits.
Ecochem will host talks from world-renowned chemists as well as industry leaders from across the value chain, including:

Dr. John C. Warner President & Chief Technology Officer, Warner Babcock Institute for Green Chemistry, LLC
Dr. Hubert Mandery Director General, Cefic European Chemical Industry Council
Prof. Dr. Andreas Kuenkel Head of Research, BioPolymers, BASF
Dr. Anne Wallin Director EHS & Sustainability EMEA, The DOW Chemical Company
John Frazier Senior Director of Chemical Innovation, Nike
Dr. Klaus P. Stadler Director Environment & Water Resources Europe, The Coca-Cola Company
For your Free registration to the Ecochem Exhibition, Technical Conference and Innovations Seminars, One-to-one Partnering and Networking Events please visit: http://www.ecochemex.com/register and complete your free registration.
Please download our event brochure at http://www.ecochemex.com/download-event-brochure and discover who will be attending Ecochem.