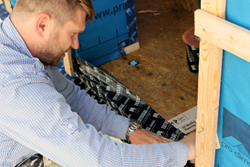 Woodstock, NY (PRWEB) August 05, 2014
As high performance, net-zero, and green building strategies build momentum, trailblazing architects and builders are emerging as leaders in adapting the Passive House construction methodology to US construction. Many are making this shift by utilizing materials manufactured in Europe, which far exceed performance standards available from domestically produced building products.
One of the greatest challenges of the Passive House building standard is creating a building envelop that is airtight, as drafts are a primary source of energy losses for buildings. Window selection and proper window installation are particularly important to maintain the robust characteristics of high performance walls. In a video produced by 475 High Performance Building Supply (475), Chris Corson, owner and Technical Director of Maine-based EcoCor High Performance Building Systems, demonstrates one of the facets that make his projects exemplary. Corson takes advantage of a new product called Extoseal Encors, which is distributed within North America by 475 and manufactured by German airtightness specialists Pro Clima. Extoseal Encors is a highly elastic, yet durable tape which stretches over the exterior of the window sill to provide long-lasting protection from structural damage or mold caused by water and moisture.
In the demonstration video the window sill needs to be as robust as possible because the building's windows are floor to ceiling. Extoseal Encors provides a durable, airtight and waterproof sill, allowing any water to drain out effectively. It also allows Corson to avoid use any treated lumber in his walls or in this sill area. This contributes to one of the many details that allows for building in the most environmentally friendly way possible.
"We take great care to choose our building materials well," said Corson on-site of his company's first modular house project, currently in construction in Woodstock, New York, "and I believe in building as foam-free as possible." Sourcing materials that are foam-free and ecologically sound is a focus of 475 High Performance Building Supply.
Momentum for Passive House construction is growing, particularly in Maine where the North American Passive House Network will hold its annual conference this year in Portland. EcoCor, 475, and Pro Clima will all be represented at the event, to be held September 22nd and 23rd.