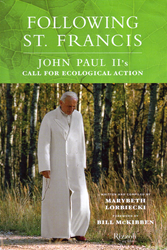 This is the profoundly right moment for this book.
New York, New York (PRWEB) August 14, 2014
Elected second youngest Pope in history in 1978, John Paul II helped inspire the Solidarity movement in Poland and launched a peaceful and cultural revolution throughout the entire Western World. Dubbed the Son of Poland under the Medal of Freedom in 2004, referred to as The First World Leader and The Greatest Political Actor of Our Time in 2005 and canonized a Saint in 2014, John Paul II has always inspired meaningful change. This dynamic book provides a fresh look at urgent environmental problems by exploring the lost ecological teachings of one of this era's most instrumental catalysts of positive social change. Author Marybeth Lorbiecki presents John Paul II's invigorating teachings about humanity's ecological responsibilities and their sources. She includes their specific counsel on twelve ecological crises facing the world, which are provocative and radical, and concludes with key sections on transformation and restoration. This work, with citations, is the only one to have collected the complete range of John Paul II's environmental teachings. (available online)
"This is the profoundly right moment for this book," says Bill McKibben, author of The End of Nature and founder of 350.org, who provides the book's foreword, demonstrating the importance of these teachings for the entire environmental movement.
FOLLOWING ST. FRANCIS: John Paul II's Call For Ecological Action shows John Paul II as an uncompromising advocate for ecological responsibility throughout his papacy and reveals his perspective that the development of a just human society is closely tied with preserving the health of the planet. He shows how harming natural systems harms the poor. An adamant environmental activist in the name of faith and human citizenship, John Paul II alerts us that the industrialized world is producing a "culture of waste" both ecologically and economically, a culture far more concerned with "having" than with "being." Many have removed themselves from the essential meaning of life and the means to sustain life, while destroying themselves spiritually, morally, emotionally and economically, as they have gradually separated themselves from the natural world in which they live. At the same time, he demonstrates that ecological disasters can serve to be catalysts to positive transformations.
ABOUT THE AUTHOR: Marybeth Lorbiecki has been at work on environmental issues for more than twenty years and has been consulted by the Holy See about her work on John Paul II's ecological writings. She is currently the Director of the Interfaith Ocean Ethics Campaign (IOEC), a joint program of the Franciscan Action Network (FAN) and the National Religious Coalition on Creation Care (NRCCC). For more information on Marybeth Lorbiecki, please visit: (http://www.followingstfrancis.com), (http://www.marybethlorbiecki.com) and (http://www.oceanethicscampaign.org).
For serial rights, please contact Rizzoli New York to secure.
FOLLOWING ST. FRANCIS: John Paul II's Call for Ecological Action
By Marybeth Lorbiecki, Foreword by Bill McKibben
Rizzoli ExLibris, an imprint of Rizzoli New York, 2014, 384 pages / 6̎ x 9̎
ISBN: Hardcover – 978-0-8478-4271-1 E-book – 978-0-8478-4273-5
http://www.rizzoliusa.com