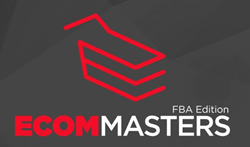 This is the ultimate blueprint for Amazon selling created by experts who have already made millions themselves through this process.
Las Vegas, NV (PRWEB) April 17, 2015
Four of the leading experts in the ecommerce and physical product space have come together for a joint collaboration that is giving hopeful internet entrepreneurs the most comprehensive blueprint to Amazon FBA selling ever released, and is doing so at a fraction of the cost of other comparable courses. Tanner Larsson, Los Silva, Ryan Coisson, and Daniel Audunsson collectively sell more than 8 figures per year through their Amazon ventures and together, have used their expertise to create the Ecom Masters – FBA Edition program. The program is set to be released on Tuesday, April 21st at 2pm Eastern.
Ecom Masters – FBA Edition is designed by Larsson, Silva, Coisson, and Audunsson to be a comprehensive A to Z course for those interested in selling their existing or new physical products on Amazon, including beginners, intermediates, and advanced users. The four ecommerce experts are known for their unique ability to teach their system to others with easy-to-follow steps.
Unlike other comprehensive Amazon selling blueprints that retail for thousands of dollars, Ecom Masters – FBA Edition is available for a much lower front-end price point.
"Amazon is the ultimate sales engine and is the best business partner ever when you do things right," said Audunsson. "Our goal in creating the Ecom Masters – FBA Edition program is to teach others how they can follow the same steps we did to jumpstart their success in the physical products business through Amazon and become more profitable than they ever imagined they could be."
The Ecom Masters – FBA Edition program is broken down into core modules based on where each user is in the progress of their business. The course consists of extenisve modulized training videos, six weeks of live training, bonus strategy calls, software tools, and cheat sheets, along with other essential checklists and guides.
Coisson stated "we're excited to teach others our strategies through this program because we know that there is still an abundance of untapped potential with Amazon, and we want to see others achieve the same success we have in just a few short years."
Leading up to the release of eCom Masters Coisson, Larsson, Audunsson and Silva are going to be doing some free training and giving away some very special bonus content to those on the on the early bird notification list.
One can access the early bird list at: http://ecommasters.com
Due to the personalized nature of the program, the Ecom Masters – FBA Edition program will only be available for a limited time through Sunday, May 3rd. For more information about the program, please visit the eCom Masters home page here.
In the meantime if one would like to learn more about the 10 proven steps to launching a product on Amazon they can access the exclusive cheat sheet created by Audunsson and Coisson at: http://ryananddaniel.com