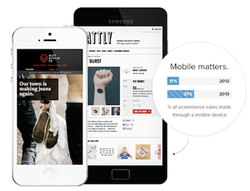 Any business owner that is looking for an ecommerce online store builder needs to see what ecomreviewed.com is showing people.
San Diego, CA (PRWEB) March 06, 2014
As the number of consumers turning online to purchase products and information is growing rapidly, the importance of having a highly function and user-friendly online stores has caught the attention of Richard Brown, prompting an investigative review of the best options for ecommerce online store builders.
"Finding the right provider of ecommerce online store builder software that offers all of the comprehensive options consumers want is essential for ecommerce businesses to be successful," reports Brown. "But since there are numerous ecommerce store builder providers on the market, it can be difficult for business to determine which offers the right options for their products or information."
Some of the most important features businesses should look for in determining the best ecommerce online store builders is the options of themes design they provide, the level of technical support offered, transaction fees, integrated payment processors, the comprehensiveness of tools available, abandoned cart recovery, app store extensions, and more. All of these features work together to create a site that offers maximum user-friendliness and customer service. The monthly pricing that each of the online store software providers offer is also an important factor when determining which provider is best for each business. In the current marketplace, some of the most popular ecommerce store builder software providers are Bigcommerce, Shopify, Squarespace, Weebly, and Jimdo. Several of these providers offer very similar services and tools, but some lack in certain areas where others excel.
"After performing a comprehensive review of these major ecommerce software providers, we determined that Shopify has the most comprehensive lineup of tools and services available to site owners to help their ecommerce store perform at its best," says Brown. "Shopify goes beyond other providers in offering the most app store extensions, the most integrated payment processors, the most comprehensive support services, and maximum options for themes design."
"Shopify also offers sites a point of sale system along with a mobile app to manage the store anywhere on-the-go. The flexible monthly pricing options start at just $14 a month, allowing even the smallest ecommerce businesses to take advantage of the vast array of options this software offers."
Those wishing to invest in Shopify for their ecommerce store, or for more information, click here.
To access a comprehensive ecommerce online store builders review, visit this site here.