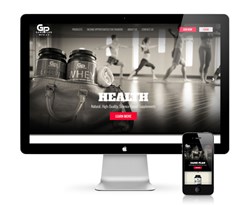 Seattle, WA (PRWEB) December 31, 2013
Game Plan Holdings, Inc. is a Boston, MA-based online retailer of health and fitness products, including pre- and post-work out supplements like protein shakes, thermogenics, and more. (All of Game Plan's supplements are manufactured in the USA in FDA-GMP and NSF Certified Facilities.) Game Plan strives to empower fitness-focused individuals through science-based nutrition products that enable peak performance and optimal health. The publicly traded company (GPLH) also offers income opportunities for trainers and other fitness professionals through referral sales.
In Fall 2013, Game Plan enlisted the help of Seattle web design and online marketing firm, Efelle Creative, for business branding assistance through a responsive website design. In addition to getting a custom eCommerce website design, Game Plan worked with Efelle Creative's marketing team to improve user experience and streamline the customer acquisition process on the site.
To engage their target market -- comprised of personal trainers, fitness instructors, coaches and athletes, and fitness enthusiasts -- Game Plan was looking for a sleek, lifestyle-focused website design. The new Game Plan site emphasizes a clean, modern look with easy navigation and clear calls to action. The product-focused website design offers individual product pages complete with supplement facts and usage instructions, product videos and more. The new website also includes a section for frequently asked questions as well as a password-protected area for Game Plan partner resources.
To check out Game Plan's new responsive website (currently in beta), visit http://www.gameplan.com.
About Efelle Creative
With more than 400 successfully completed custom website design and development projects under its belt, Efelle Creative specializes in website design and development with an emphasis in organic search engine optimization (SEO). Over the past 8 years, the team at Efelle Creative has grown into a full, in-house team of web professionals, internet marketing specialists, and production and support staff and continues to provide complete online marketing systems for clients nationwide from its Seattle office. The award-winning firm was recently recognized by the Puget Sound Business Journal as one of the Top 100 Fastest Growing Private Companies in Washington.
In addition to its responsive web design services and website content management system for eCommerce and professional service businesses, Efelle Creative also offers other custom online marketing solutions for medical industry professionals, law firms, real estate industry professionals, membership organizations, and more. To learn more, visit http://www.seattlewebdesign.com.