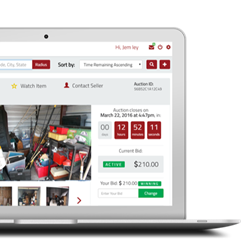 "As an owner, and talking to other owners and bidders, I feel confident that Storageauctions.com can benefit both buyers and sellers," said Lonnie Bickford
BATON ROUGE, La. (PRWEB) October 11, 2016
Storageauctions.com has officially begun online storage auctions. Since they started, over 200 auctions have taken place across Louisiana, Mississippi, Texas, Alabama, Georgia and Tennessee, and 500 bidders have registered from across the country. Over 100 stores will be added online in the next 30 days, and another 200 are in the works. Storageauctions.com lets users browse auctions, bid on live auctions and sell directly from a computer, tablet or mobile device.
Storageauctions.com provides an online auction system that empowers both bidders and sellers. Auctions can be held at any time with no auctioneer fee. Storageauctions.com shows clients how to use online auctions to improve collections, leading to fewer auctions overall and lower delinquency on rent. They offer a hassle-free platform for increasing auction speed, lowering auction costs and increasing business value.
"As an owner, and talking to other owners and bidders, I feel confident that Storageauctions.com can benefit both buyers and sellers," said Lonnie Bickford, owner of Storageauctions.com. "This isn't like Ebay. This is built for the storage owner and designed 100% to fill a unique market niche."
Visit http://www.storageauctions.com for more information on this innovative approach to storage unit auctions. Auctions are scheduled in Louisiana, Mississippi, Texas, Alabama, Georgia, Tennessee, Washington, Hawaii, Wyoming, Missouri, Illinois, Oregon and Nevada.
Storageauctions.com is an online platform for buyers and sellers to access online self storage auctions. Buyers access auctions in real time to bid on items without the time and expense of travel. Sellers use the website to decrease auction numbers, decrease rent delinquency and increase recovery rates. These services allow businesses to grow and meet other financial obligations.