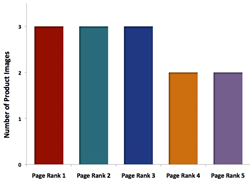 Our research shows that optimizing descriptions and titles for search queries can move a product up from page seven to page one in a retailer's search rankings
San Francisco, CA (PRWEB) December 17, 2014
A new study by Content Analytics, an innovator in e-commerce product optimization, has uncovered five essential attributes that help brand marketers increase their products' visibility – those that make them appear higher in search rankings on major e-commerce sites such as Walmart.com and Amazon.
The data was derived from an analysis of more than 17,000 product pages. It shows how factors such as keywords, visuals, reviews, discounts and availability can improve where a product appears in a shopper's search results.
Rich Keywords Are Rewarded
Content Analytics found that brands could be missing a huge opportunity by incorrectly or insufficiently using keywords on their product pages. Its research shows that the most visible products on e-commerce sites are those containing the complete search query in both the title and description (e.g., "moisturizing shampoo" or "cell phone cover").
Of the pages that Content Analytics analyzed, those with the complete query in both places ranked on the first or second page of the search results. Meanwhile, those with the search query in just the title or the description ranked on pages three–six, and those that did not include the query or used it sporadically ranked on pages seven–ten. [See Graph 1.]
"E-commerce SEO is one of the most critical tools for brands because it is impossible for people to buy a brand's products if they can't find them," said Content Analytics CEO Dave Feinleib. "Our research shows that optimizing descriptions and titles for search queries can move a product up from page seven to page one in a retailer's search rankings, and mean the difference between items being passed over or purchased."
Images and Video Propel Products to Page One
Product merchandising is just as important online as it is in brick-and-mortar stores because consumers want to see and understand what they are buying. Not only do product images and videos help shoppers make informed purchasing decisions and reduce product returns, they are also highly correlated to page rankings.
The Content Analytics study finds that product listings with images are nearly 150 percent more likely to appear on page-one results than those without. What's more, listings with video are 200 percent more likely to appear on page one. The number of images also matters. Product listings with three or more images are much more visible in e-commerce search rankings than those with two or fewer images. [See Graph 2.]
"Images and videos are vitally important in grabbing and keeping a shopper's attention," said Feinleib. "Amazon, Walmart and Unilever are prime examples of companies that have mastered the use of online visual merchandising to increase click-through rates. Meanwhile, thousands of other brands and retailers are failing to optimize their product pages with visuals that pique a shopper's interest and differentiate their items from the competition."
Thumbs Up for Product Reviews
Product reviews can influence page rankings, but it is more about the amount of reviews than the type of review. In Content Analytics' research, product listings with 20 or more reviews are more apt to appear in the first five pages of the search results. Those with more than 80 reviews are likeliest to appear on page one. [See Graph 3.] Interestingly, whether the review is positive or negative has no bearing on its visibility.
Out of Stock – Out of Luck
Content Analytics' research also reveals that in-stock items are 700 percent more likely to appear on page one. Although seemingly obvious, this underscores the need for brands and retailers to keep inventory in stock at all times and remove expired product listings.
Research Methodology
Content Analytics analyzed more than 17,000 product descriptions on Walmart.com in the third quarter of 2014. The company examined the search performance of the products based on product page content, including keywords, images, videos, reviews and availability.
About Content Analytics
Content Analytics delivers precise insights to brands and online retailers that help them maximize sales by improving the visibility of their products online. Using proprietary Web crawler technology and natural language processing algorithms, its platform identifies under-optimized product listings and produces metrics to improve their search rankings on retailer websites, augment their product assortment and generate the highest click-through rates. The company is based in San Francisco, Calif., and is backed by industry-leading investors such as Almaz Capital and dunnhumby Ventures. For more information, visit http://www.contentanalyticsinc.com or follow the company on Twitter or on LinkedIn.
###