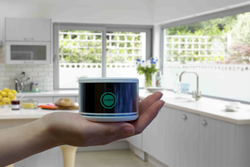 Drinking water contamination is a serious global problem that we intend to solve.
San Francisco, CA (PRWEB) March 02, 2016
Ecomo is the world's first portable smart water analyzing and filtering solution. It collects data on water contaminants in real time and recommends customized filters to improve the safety and quality of your water. The mission of Ecomo is to empower everyone to make educated decisions about what they drink and to provide access to clean water to people at home or on the go.
Designed for versatile compatibility, Ecomo allows you to mount the analyzer on various faucets, mugs and bottles. The device runs an instant analysis and provides continuous monitoring of water quality, with easily accessible reports via the Ecomo app. It also suggests the best filters to use and the optimal replacement schedule.
Ecomo is one of the fourteen companies graduating from the first LAUNCH Incubator class and presenting at LAUNCH Festival 2016 in San Francisco on March 2nd at 3:00pm.
"We believe that everyone has the right to know what's in their water. With 35 years of combined engineering and biotech experience, our team is obsessed with water quality. Drinking water contamination is a serious global problem that we intend to solve. Being invited to present at LAUNCH Festival is a huge milestone for our company," Ecomo Co-founder and CEO Eric Li said. "We have been lucky to work with many brilliant, innovative mentors who have gotten us where we are today."
As water passes through Ecomo's sensors, the device runs instant tests for contaminants such as heavy metals, turbidity, TDS (total dissolved solids), bacteria, and TOC (total organic carbon). Additionally, it monitors water pH. The device uses machine learning and gets smarter with each use.
During usage, an LED indicator turns red, yellow or green to let you know whether the water is safe to drink. Information is also sent to the Ecomo app in real time. The app informs you of any issues found and provides suggestions on how to fix them. These suggestions may include adding a customized filter (contained in a starter pack) or replacing the existing filter. Filter options include a membrane filter, an activated carbon filter and an ion-exchange resin filter.
Once the water quality is captured, you can share the data with those around you via the app. For example, people traveling to or living in an area can learn about their water quality and take action. Additionally, a detailed history is stored within the app for easy access to the recorded water quality.
At LAUNCH Festival, Ecomo will be competing for the "Best Incubator Startup" award. What's more, Ecomo will select 50 beta testers to try its smart water system for free.
LAUNCH Incubator is a group of 14 startups that attend three annual 12-week sessions with LAUNCH mentors. The program has helped Ecomo to bring the product to market with advice, guidance and invaluable relationships. To learn more about Ecomo, please visit: http://www.ecomo.io.
ABOUT ECOMO
Ecomo is a smart water quality analyzer and filter, powered by patent-pending patented sensing technology that collects water quality data to optimize the treatment process. This new product not only purifies the drinking water, but also monitors the quality of water while using it. This solves the problem of potential pollution factors before reaching the end user by detecting contaminants in the pipes and water tanks. Additionally, Ecomo has an alert system that allows users to know the proper time for filter change. Mappedon Inc., the creator of Ecomo, is a technology company based in New York. More information on Ecomo can be found at http://www.ecomo.io or via email at hello(at)ecomo(dot)io.