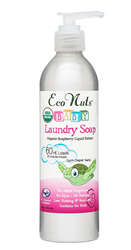 People will absolutely love both organic formulas as they have what people want in a detergent for the entire family: It's effective, cost efficient, space-saving, easy-to-use with no measuring or pouring; eco-friendly; and best of all certified organic
Lawndale, CA (PRWEB) September 15, 2014
Eco Nuts, an environmentally friendly cleaning product company, has introduced two new certified USDA organic liquid laundry detergents made with soapberry extract – i.e. from soap nuts. Eco Nuts Organic Laundry Soap and Eco Nuts Organic Baby Laundry Soap are made with only USDA Organic certified ingredients and also eliminate the need for fabric softener.
Soapberry, or soap nuts extract, is derived from the berries harvested from trees grown in the Himalayas. The new Eco Nuts Liquid Detergents are made from soapberry extract and other USDA Organic certified ingredients.
Instead of a typical plastic bottle, the Eco Nuts laundry detergents are packaged in an environmentally friendly 10 oz. aluminum bottle with an easy-dispensing pump top. While the container is smaller than a standard water bottle, the super-concentrated Eco Nuts liquid formulas pack quite a punch as only a teaspoon is needed for each High Efficiency (HE) load and each bottle can be used for as many as 60 loads of laundry.
"The Eco Nuts Organic Liquid detergents are real winners," says Mona Weiss, co-founder and CCO of Eco Nuts. "People will absolutely love both organic formulas as they have what people want in a detergent for the entire family: It's effective, cost efficient, space-saving, easy-to-use with no measuring or pouring; eco-friendly; and best of all certified organic"
Eco Nuts' commitment to the environment has been a guiding factor in its product development. Eco Nuts' products contain no dyes, fragrances, fillers, enzymes or optical brighteners and are 100 percent SLS (sodium laurel sulfate) and phosphate-free and never tested on animals.
About Eco Nuts:
Eco Nuts is a multiple award winning organic cleaning products company as seen on ABC's Shark Tank. Eco Nuts was founded in 2009 to bring earth-friendly laundry and cleaning products to the marketplace in compostable or recyclable packaging. Eco Nuts products have a wide appeal but are especially popular among those with allergies to dyes and fragrances. More information can be found at EcoNutsSoap.com