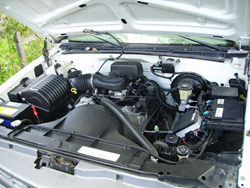 Engines are now in stock for Silverado, Sierra, Corvette and Escalade vehicles using the 6.2-liter motor displacement
Pittsburgh, PA (PRWEB) April 23, 2015
General Motors started production of its Generation V engine platform in the year 2013. The small-block motor series is now featuring OHV versions used for sports cars, trucks and SUVs. The Powertrain Guys company is now selling EcoTec3 6.2L used engines through its web portal to all U.S. buyers at http://powertrainguys.com/ecotec3-6-2l-engine.
The water-cooled E85 compatible V8 motors that are now in stock were built in the 2014 production year. The LT1 and L86 RPO codes are represented in the promoted inventory now available. These direct injection motor blocks are certified units that are now being shipped across the country with a revised warranty plan.
"Engines are now in stock for Silverado, Sierra, Corvette and Escalade vehicles using the 6.2-liter motor displacement," said one Powertrain Guys specialist.
The used EcoTec3 V8 motors that are now on sale at the PTG website are OEM builds that feature the standard 11:5:1 ratio of compression. The blocks are 376 cubic inch displaced builds that have been removed from working trucks and SUVs by automobile dismantlers in North America. The sale prices now offered at set to remain until the close of this year.
"The 8L90 and 6L80 GM transmissions are fully compatible with the 6.2-liter V8 blocks that are now promoted for consumer sales," said the specialist.
The Powertrain Guys website has been updated this month with the featured GM inventory for V8 and V6 motors. Consumers or auto shop mechanics who browse the stock levels now available will also have the option of ordering transmissions or transfer cases for select vehicles.
About PowertrainGuys.com
The PowertrainGuys.com company is a leading source to buy auto engines, gearboxes and other powertrain equipment for used motor vehicles on the Internet. The company has taken the lead as a second hand resource for all automaker brands this year. The PowertrainGuys.com company matches prices for consumers and offers support by toll-free phone lines in the U.S.