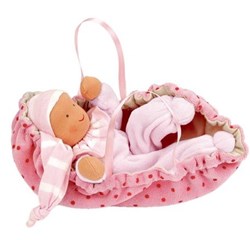 With mounting evidence about the harmful side effects of pesticides and chemicals, many parents are monitoring the food their children eat, but what about the toys they put in their mouths?
Denver, CO (PRWEB) November 13, 2013
Organic? All natural? Fair trade? Non-toxic? With mounting evidence about the harmful side effects of pesticides and chemicals, many parents are monitoring the food their children eat with increasing vigilance. But what about the toys they put in their mouths and the stuffed animals they sleep with at night? There hasn't been an easy way to assess the eco-friendliness and non-toxicity of a toy.
The U.S. Consumer Product Safety Commission regulates toy safety regarding choking and strangulation hazards and lead poisoning, but many parents want a higher standard. The EcoScore was developed by a research scientist who is also the mother of a toddler. The EcoScore is an easy way to judge the sustainability of a toy at a glance. Sustainability in this sense means that a toy is non-toxic and environmentally friendly, and thus sustains the health of the child and the health of the earth. The EcoScore was developed by compiling the characteristics of natural, organic, and sustainable toys:

Free of plastic and vinyl
BPA-free
Lead-free
Phthalate-free
Free of toxic paints, dyes, and flame retardant chemicals
Uses renewable energy
Made with renewable energy
Made of durable materials
Made of natural materials
Made of sustainable materials
Fair trade
Recyclable and biodegradable packaging
Meets European Toy Safety Directive standards
These characteristics are weighted, and toys are ranked according to the degree to which they meet these criteria. EcoScores range from 0 to 100, with 100 being completely organic, non-toxic, sustainably produced, fair trade toys.
For example, a typical vinyl doll from Mattel has an EcoScore of 11, while a cloth Waldorf doll from Kathe Kruse has an EcoScore of 98. What are the differences? The Mattel doll is made of plastic that likely contains BPA, phthalates, and other chemicals, and could be contaminated with lead. In fact, numerous Mattel toys made in China have been recalled for lead contamination including toys in their popular Barbie line and Diego line, according to the recall page on Mattel's website. In contrast, the Kathe Kruse cloth doll is made from 100% natural, sustainably sourced materials such as cotton and wool, and is tested to be free of the above toxic chemicals. In addition, many of the Mattel dolls use batteries, and are not made with renewable energy like the Kathe Kruse doll.
Similarly, in contrast to many of the plastic building toys on the market, magnetic wooden blocks from Tegu are sustainably produced and completely non-toxic. Tegu blocks are made in a Fair Trade facility in Honduras that provides education, fair wages, good working conditions, and career advancement opportunities to Hondurans. Tegu sets a new standard for environmental and social responsibility among manufacturers. Tegu also plants one tree for every set of blocks sold. Tegu blocks have an EcoScore of 97.
The developers of the EcoScore system have launched an online retail outlet, called EcoToys, for natural and organic toys. The website gives the EcoScore for each product on the site. The owners also use the EcoScore to decide which products to carry on their site. All toys sold on the EcoToys website have a score of 80 or higher.
For more information about the EcoScore and its components, visit http://www.ecotoys.org.