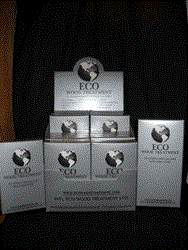 Eco Wood Treatment is a proven wood preservative that prevents the white-rot funji, a common wood decay in North America.
Issaquah, WA (PRWEB) December 23, 2013
TheHardwareCity.com, a leading online provider of hardware equipment, now offers Eco Wood Treatment. Used for years in residential and commercial applications, Eco Wood Treatment gives wood an aged look, only needs to be applied once, and is 100% organic.
"We're excited to add this environmentally safe and high-quality item to our line of offerings. Because Eco Wood Treatment is a member of the United States Green Building Council, consumers know they're getting a product that won't harm the environment. Not only does this high-quality product safeguard wood against fungi, mold and rot, it's made only of organic compounds," said a representative of TheHardwareCity.com.
Simple to use, Eco Wood Treatment works for either new or untreated wood found in interiors or exteriors, and is completely no-maintenance. It will not peel or fade. Derived from minerals, Eco Wood Treatment comes in a powder form with no added chemicals or solvents, and because it is completely organic, it is safe for use on any structure that may penetrate into water or soil.
This revolutionary product is available in seven different tints including black, green, red, yellow, brown, orange, and green. Eco Wood Treatment is appropriate for all wood types, including tropical hardwoods.
"Eco Wood is simply one of the best wood stain products on the market. It is also one of those products that will save consumers a lot of money for a few reasons. First of all, it's priced less than nationally advertised wood stains. Second, a consumer simply uses it once, and it will make their wood look great. Once it's used on a piece of wood, there's no need to ever use it again on that item. It's simple, convenient, and maintenance free," said a representative from TheHardwareCity.com.
AboutTheHardwareCity.com
Having an online presence since 2007, TheHardwareCity.com is one of the largest Internet retailers of hardware supplies. The retail giant offers a wide range of products including power tools, garden supplies, industrial supplies, and much more.
TheHardwareCity.com has experts on staff that is available to answer questions Monday through Friday from 9 a.m. – 5 p.m., PST. For more information, visit http://www.thehardwarecity.com/.