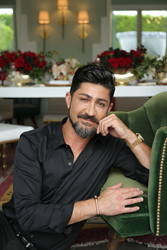 Creating a course that allows me to share what I've learned in an industry that has given so much to me was extremely important.
LOS ANGELES (PRWEB) March 10, 2020
Eddie Zaratsian, owner of Eddie Zaratsian Lifestyle and Design, has released his long-awaited online masterclass to the public, aiming to share his design expertise with both upcoming and well-seasoned fellow industry professionals. The course strives to be both educational and collaborative, lending actionable takeaways to give attendees the tools to craft beautiful, signature experiences for clients.
"One of my biggest passions lies in inspiring and educating others," says Zaratsian. "Creating a course that allows me to share what I've learned in an industry that has given so much to me was extremely important. My team and I worked tirelessly to make sure the masterclass delivers on its promises of being a worthy, invaluable investment, and we're so thrilled to see it finally come to life!"
At the helm of the many offerings within the masterclass, Eddie's mission is to pull back the curtain of the luxury floral design world, providing a step-by-step process to demonstrate how he made a name for himself – and how others can, too. This includes a number of modules ranging from (but not limited to) marketing your business to target your ideal client, the creative process complete with design fundamentals, and real business templates with proven success.
"I wanted to make sure that the curriculum was accessible for any skill level but with a fixed focus on those aspiring to attract high-end clientele," adds Zaratsian. "For some, this means starting at the ground-level, but for others, this could mean leveling up within an established business. The masterclass caters to everyone, and there's no shortage of takeaways."
Registration and pricing for Eddie Zaratsian Masterclass: The Business of Luxury Floral and Event Design can be accessed here.
About Eddie Zaratsian, Eddie Zaratsian Lifestyle and Design
Eddie Zaratsian is the visionary behind Eddie Zaratsian Lifestyle and Design, a full-service event design and production studio based in Los Angeles, California. With over 25 years of experience, Eddie's creativity and passion is evident in every aspect of his work, and his ability to imagine and actualize events is unparalleled. Named as one of the top five international florists by the London Financial Times, Zaratsian has built a reputation as a visionary artist, and his work has been celebrated and featured by Martha Stewart, Harper's Bazaar, Grace Ormonde, E! News and Glamour, among others. Now, through guest lectures and classes globally, as well as private workshops in his spectacular LA Design Studio, Eddie generously shares his extensive business, design and floral expertise.