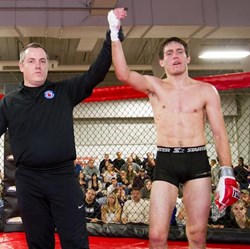 I knew I would have a advantage on the ground for sure so that's where I decided to keep the fight and look for the stoppage
Belcamp, Maryland (PRWEB) November 15, 2013
This past weekend, Eddie "The Dude" Doud made his MMA debut at Stellar Fights 19. His first time in the Stellar Fights cage as an MMA fighter would put him against a familiar opponent, in John Drenner. This two fighter have fought before but under Kickboxing K-1 rules and with all the action that was displayed in that fight it was only natural that the two fights cross over to MMA fights.
Both Doud and Drenner, similar to their fight fight, kept the action going the entire fight and kept the crowd entertained, especially with Doud doing his best impression of some of his favorite UFC fighters like Chael Sonnen, GSP, and Nick Diaz.
While Drenner was looking to land his big right hand, Doud found great success with dodging the big right hand and taking Drenner down to the mat.
Doud dominated the whole fight with his strategy to close the distance and get take down . From the ground Doud imposed is will landing devastating "ground n pound" and securing top pressure. A few times in the second round Doud nearly got the referee stoppage with his barrage of punches from the mount position. Doud spectacular performance would earn him a unanimous decision on judges score card.
When asked how he felt about his performance, Doud had this to say, "It feels good to get my first MMA win, um...I knew I would have an advantage on the ground for sure, so that's where I decided to keep the fight and look for the stoppage. Now that it's over, I really wish I would have showed more striking, but hey, I'm still learning my craft and uh, you know, I'll keep on training and uh getting better. This is just the beginning."
Its important to note that Doud, in addition to being new MMA fighter, has competed for years on the grappling circuit , even winning gold at some of the most prestigious BJJ tournaments, and he sets aside time from training to teach and share the knowledge of martial arts with students in the Top Flight Kids MMA program.
Doud looks forward to increasing his skills and getting back into the cage real soon. He up for working his way up the Stellar Fights Bantam weight division so he can one fight the top talent in the division.
To see a full behind the scene video of Eddie Doud's MMA debut please visit http://www.TopFlightMMA.com.
For more information on Doud or the Top Flight MMA competitors/ programs please email or call the academy.